Thacher Winery: winery information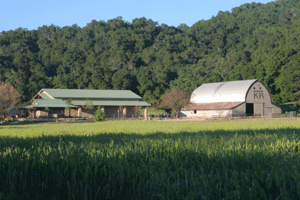 Winemaker: Sherman Thacher
Sherman Thacher grew up on a citrus orchard in Ventura County where his family has well established agricultural roots. His great, great uncle started the first commercial avocado grove in the 1880's and his great grandfather was an orange and olive rancher in the 1880's before turning to education. Sherman's maternal great, great-grandparents started farming in Ventura and Santa Barbara County in the same period. Their ranches are still farmed today and have combined with other pioneer families to form the Limoneira Company, a diversified agricultural business and the largest avocado and lemon grower in the United States. After graduating from UC Davis, Sherman began his professional career as a brewer and became an award winning brewmaster for Los Gatos Brewing Co., a position he held for 16 years. Since 1993 Sherman has been making wine professionally in the Santa Cruz Mountains and in Paso Robles. He has worked under the loose tutelage of distinguished winemakers at wineries such as David Bruce, Mariani and Savannah- Chanelle. 2004 marked Sherman's first vintage for the Thacher label.
Annual Production: 1,800 cases
Futures
As a club member you will enjoy an exclusive connection to all of Thacher Winery's limited production wines. Club members are entitled to receive a 20% discount on all club shipments and additional wine purchases, complimentary tasting at the tasting room, private tastings and barrel samplings by appointment and an invitation to the second annual wine club party on Saturday, May 1, 2010. For more information please see our website.
Estate Vineyard Acreage
5
Grape Varieties Planted