Tondre Wines: winery information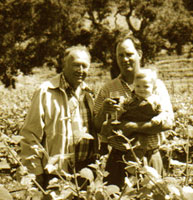 Winemaker: Tony Craig
The Wines
"Let the wine make itself" – is an axiom that weaves aromas and flavors together, vintage by vintage. This concept leads our winemaker, Tony Craig to his decision to use oak as an interactive process with grapes each year. He focuses on how the wine feels along with how it tastes. As a critic of oak, he avoids unneeded oak tannins that reduce bright color hues, produce harsh tannins and unbalance the wine.

Tony Craig leads the Tondre wine program at Silver Mountain Vineyards in the Santa Cruz Mountains AVA. He has been producing award winning vineyard-designated Pinot Noir for over twelve years. He is committed to producing elegantly refined and luxuriously flavored Pinot Noir that appeal to wine connoisseurs and enthusiasts who are artisans in their own world and demand a world class sensory experience in everything they do.
Annual Production: 350 cases
Futures
Futures are not available at this time. Our production is small – only 200 cases were produced. The 2003 vintage is the inaugural release. Be among the first to enjoy our labor of love with this rare wine and we will add you to our preferred list for the next vintage and Tondre news and information.

CONTACT US:
Please contact us directly for an order sheet or to be placed on our preferred list.
Fax: 1-800-732-4271
Tel: 1-707-738-9676
1wine@sbcglobal.net
Estate Vineyard Acreage
The Grapefields
Pinot Noir – Grapes Matter.

Tondre Grapefield was planted in 1997 on six and half acres in the heart of the Santa Lucia Highlands appellation. It now has seven blocks for an accumulation of fifty two (52) acres dedicated to Pinot Noir grape vines.

Several of the leading Pinot Noir clones are planted to ensure that there is a medley of fruit and sufficient Tondre pedigree character to suit vintner stylistic preferences. These clones are pruned to hang two clusters per shoot with an average thirteen shoots per vine which yield three and a half tons per acre of ripe and distinctive Pinot Noir Grapes.
Grape Varieties Planted