Van Duzer Vineyards: winery information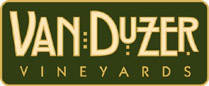 Winemaker: Jim Kakacek
A stickler for the best, Winemaker Jim Kakacek has overseen the winemaking of Van Duzer wines since 1994. Jim was one of the youngest vintners in Napa Valley when he crafted some of the Wine Spectator's "Top 100 Wines of the Year." But it was the opportunity to improve the level of winemaking that drew Jim to Oregon. "It's exciting to be in on something new. I know that when we plant the right clone of the right varietal in the right spot, we will make Pinot Noir that is easily as notable as Napa Valley Cabernet."

A graduate of the University of California, Davis in enology, Kakacek (pronouced "Kuh-kay-sic") received his practical training at Monticello Cellars in Napa Valley. Starting as an intern working harvest, he rose rapidly to become winemaker. He was part of the team that created the 1988 Corley Reserve Chardonnay and, while winemaker, crafted the 1992 Corley Reserve Chardonnay. Although he cut his teeth on Chardonnay, Merlot and Cabernet Sauvignon, Kakacek developed a passion for Pinot Noir. This challenging, delicate varietal first led Jim to Oregon winemaking.
Annual Production: 15,000 cases
Estate Vineyard Acreage
Our vineyard is dominated by Pinot Noir vines in nine clonal varieties, each of which contributes a unique flavor, color or texture to the mix. The grape clones are matched with vineyard sites possessing the sun exposure, drainage and climatic conditions where they are most likely to produce grapes of distinction. Pinot Gris vines are planted in two clonal varieties on the east side of the vineyard where they receive full sun exposure from sunrise to sundown.

The vineyards lie on hillside elevations of 245 to 447 feet and well drained, loamy Chehelupum soils. Ample rainfall (40" yearly) is collected in three ponds which support an irrigation system that protects our vineyard from extremely low rainfall and extremely high heat at the end of the growing season. 75 acres of the 140 acre estate are planted in vineyards.
Grape Varieties Planted