Venturi-Schulze Vineyards: winery information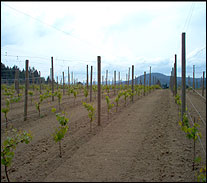 Winemaker: Giordano & Marilyn Venturi and Michelle Schulze
Giordano was born and raised in Spilamberto, Modena in the region of Emilia in northern Italy, the centre of Traditional Balsamic Vinegar production, and emigrated to Canada in 1967. He earned a degree in education from UBC. While teaching electronics and computers at Vancouver Technical School for 14 years, he also ran a small business designing application oriented hardware and software systems. Wine was always a passion for Giordano. He had a quarter acre backyard vineyard for 15 years, experimenting with varieties suited to cool climates. In 1987, he and Marilyn bought their farm, planned the vineyard and embarked on their new careers. Giordano is known for being a skilled, uncompromising and innovative winemaker.

Marilyn was born in Goomeri, Queensland in rural Australia and raised in Sydney. She emigrated to Canada in 1970 and obtained her Bachelor of Science degree in Microbiology at UBC, then worked at UBC and the Provincial Health Laboratory. Years later, she completed teacher training and her interest in French led her to the University of Montreal, where she met Giordano. His passion for life, food and wine was contagious and the dream became a shared one. She is also known for being uncompromising and determined in her quest for quality. While the artist in Giordano and the scientist in Marilyn sometimes clash, both share the same winemaking philosophy: allow the quality of the grapes to be reflected in the purity of the wines.

Michelle, Marilyn's daughter, has always had a passion for food and travel, a natural ability in writing and an affinity for foreign languages. She surprised the family by her decision to join the winery in early 1995, soon after graduating from high school. After years of immersion in all aspects of the business (soil preparation, vine planting, pruning, canopy management, harvesting, crush and winemaking) and following an intensive program of reading and research into other wine regions of the world, including a course at UC Davis, Michelle is an integral and indispensable part of the winegrowing process. She has a great palate and brings a fresh viewpoint and wonderful sense of humour to the business. She shares the passion for wine and commitment to quality.
Annual Production: 2,000 cases
Estate Vineyard Acreage
Approximately 18 of the 30 acres are vineyard; the remainder is in its natural state of forest, creek and wildflowers.
Grape Varieties Planted