Vine Hill Winery: winery information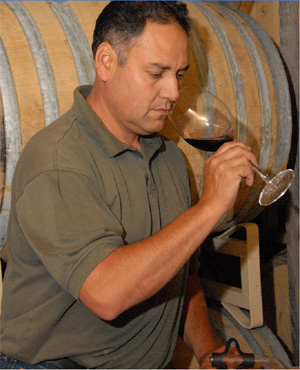 Winemaker: Sal Godinez
Salvador Godinez is our winemaker. Sal came to Vine Hill in 2005, bringing a degree in winemaking and vineyard management from Napa Valley Junior College and most importantly 20 years of winemaking experience. He practiced his craft for 11 years at the internationally known Freemark Abbey where he learned the nuances of making world class Cabernet Sauvignon and Chardonnay. He left Freemark Abbey and joined the team at Saintsbury in 1996 where he fell in love with Pinot Noir and most especially the Dijon clones that are recognized as the best Pinot Noir clones for making outstanding wine. After nine years at Saintsbury, under the mentoring of Byron Kasuge, Sal made a move to join his friend, Nick Guerrero at Vine Hill Winery. Sal joined Nick in August, 2005. During the past four harvests Sal has built on his knowledge of the Santa Cruz Mountains fruit that become the wines of Vine Hill. His first impression has proved correct. The Pinot Noir, Chardonnay and Syrah grapes of the Santa Cruz Mountains are the basis for an incredibly complex varietal wine that requires little or no amendments during the fermentation process. The biggest, and most exciting challenge that Sal has found, is the "beauty contest" required each year to determine which fruit is to become our Cumbre, Vine Hill and Gatos Locos wines. Supporting Sal on the home front are his wife Lorena and their two children, Neidy and Jeff. Neidy studies architecture at the University of Southern California and Jeff attends St. Helena High School.
Annual Production: 3,500 cases
Estate Vineyard Acreage
Vine Hill is perched on 26 total acres at 1,100 feet. Seven acres are planted to 6,300 Pinot Noir vines, and 700 Syrah vines.
Grape Varieties Planted