Wattle Creek Winery: winery information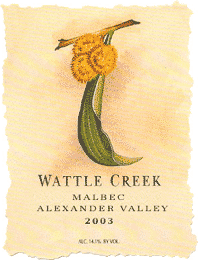 Winemaker: Michael Scholz
Australian winemaker Michael Scholz is a native of South Australia, where he grew up on the vineyard that his family has owned and lived on for six generations in the Barossa Valley. With roots this deep in the heart of Australia's famous Shiraz region, Michael shares the Williams' love of life -- and wine.

This charismatic winemaker brings a unique international perspective to Wattle Creek. His experience, which spans three continents, is evident in his global approach to winemaking. Michael's philosophy combines the best of his international learnings -- an Australian devotion to wine that illustrates the true vibrancy of the fruit, Old World wisdom, and cutting edge techniques.
Estate Vineyard Acreage
The fifty-six acre vineyard and winery are located on a hillside that runs down to the Russian River in the countryside of Alexander Valley, Sonoma County, California. After developing the original property the Williams acquired another 600 acres of higher elevation hillside and valley in the nearby appellation of Yorkville Highlands which is situated between their beloved Alexander Valley and Anderson Valley, just over the Mendocino County line. Approximately 200 of these acres are planted.