Work Vineyard: winery information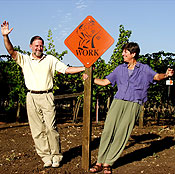 Annual Production: 1,150 cases
Estate Vineyard Acreage
At only 3 acres, the vineyard has just two soil types, but each bestows its own unique character. The northwest corner is more gravelly and rocky Bale loam and provides a mineral and washed-stone character, while the predominant soil, being Dublin clay loam, enhances the fruit with floral and spices – the real essence of the grapes.

The Calistoga climate allows the grapes to be picked fully ripe, with a perfect balance of acid and sugar. This northern end of the Napa Valley, with its unique weather conditions – moderate, dry temperatures and little summer precipitation – provides the outstanding growing environment for Sauvignon Blanc grapes.
Grape Varieties Planted