---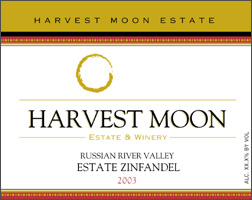 Harvest Moon Estate & Winery
2003 Zinfandel, Pitts Home Ranch
(Russian River Valley)
It's been said (by me mainly) that a lot of California red wines over the last decade are not tart enough to go with food.

To aim for wines that are crisp enough for the dinner table, I look at the total acidity and pH of the wines to determine what's at play, and I have found that one reason I like Australian reds as much as I do is that Aussie winemakers are fearless when it comes to pH: they do not mind pH levels as low as 3.4 for their reds, yielding wine that is quite tart. (The higher the pH goes in a wine, the softer it gets in the mouth.)

A 3.4 pH red wine might be hard to like for some Americans who have routinely bought cult Cabernet Sauvignons with pH levels above 3.8 and 3.9, which are very soft wines.

So it was a revelation the other day when I met a young and passionate winemaker who not only understood the idea, but who lives by his beliefs.

Randy Pitts of new Harvest Moon winery in the Russian River Valley, using Zinfandel from his family's vineyard along Olivet Road, made wines in 2002 and 2003 with pH levels below 3.2!

And yes, the wines are tart, but lower tannins as well as lower alcohol levels make the wines remarkably tasty, especially with food that is heartily seasoned and made with acidity, such as tomato-laced dishes.

"Sure, I knew the wine was going to be tart," said Pitts, "but if I raised the pH, the flavors and the balance all would change."

This wine displays a raspberry and spice aroma and has a superb tart entry. The 2002 also is superb with more mint, berry and spice. The 2002 vintage of Zin is still (barely) available, but the verification of Pitts' style is in his delightful 2003 wine.

These are wines to savor with pizza and pasta. And here's a toast to courage – leaving the wine with sufficient acid to work with meals!
Reviewed December 6, 2006 by Dan Berger.
---
Winery: Harvest Moon Estate & Winery
Vineyard: Pitts Home Ranch
Vintage: 2003
Wine: Zinfandel
Appellation: Russian River Valley
Grape: Zinfandel
Price: 750ml $32.00



Dan Berger

Dan Berger has been reviewing wine for 30 years, always seeking character related to varietal type and regional identity. He has never used numbers to rank wine and doesn't plan to start any time soon. He believes that weight and concentration aren't the only worthy aspects of wine and is especially smitten by cool-climate and food-friendly wines that offer distinctiveness.