---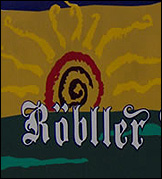 Röbller Vineyard
2003 Villa Rouge
(Ozark Mountain)
Last Saturday, I was wise in heeding the advice of St. Ambrose, who said "Si fueris Romae, Romano vivito more. . ." (when you are at Rome, live in the Roman style). It was my first visit to the Röbller Vineyard Winery, and I went to the sales counter and asked for a bottle of the semi-dry Villa Rouge, innately pronouncing the two l's as "y." The man behind the counter, Robert Mueller, answered, "Do you want the Villa Rouge chilled" (extra emphasis on the l's). Having been freshly schooled in Hermann pronunciation, I was not about to go astray in local wine serving preferences.
"Yes, please."
Chilled for five minutes in your fridge, this 70% Chambourcin, 30% Villard Noir blend mimics the Röbller grounds. A mineral, earthy bouquet uplifts floral, fruity overtones. Chambourcin is, at times, overwhelming on it own, but here it plays nicely with Villard Noir. The mouthfeel of these French hybrids is almost effervescent, and the medium body makes this a three-season wine (a frosty Missouri winter might call for Röbller's fine Norton wine).
Chambourcin should be experienced at some time by all true wine aficionados. If you go to the Röbller Vineyard Winery, do not forget St. Ambrose's sage advice.
11% abv. $9.30/750ml
Reviewed October 25, 2005 by Tim Pingelton.
---
Winery: Röbller Vineyard
Vintage: 2003
Wine: Villa Rouge
Appellation: Ozark Mountain
Grapes: Chambourcin (70%), Villard Noir (30%)



Tim Pingelton

As a professional winemaker and writer, Tim Pingelton understands how growing conditions and vinification techniques affect the grapes as they become wine. As an Appellation America correspondent, he realizes that a balance must be struck between standards in flux and standards fixed in time. Tim continually explores the areas about which he writes to personally relate how their wines do or do not embody appellation-specific characteristics.