---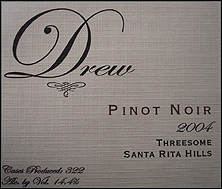 Drew
2004 Threesome Pinot Noir
(Sta. Rita Hills)
Winemaker Jason Drew does not make a single vineyard Pinot Noir from any one of the vineyards involved in this three-way vineyard blend [Fiddlestix Vineyard (39%), Clos Pepe Vineyard (32%), Arita Hills Vineyard (29%)], which makes it all the more interesting. In fact, very few blends are found in the Sta. Rita Hills because most winemakers want to showcase the terroir of their individual vineyard.

Drew, on the other hand, imagined what these three single vineyards might taste like if layered on top of each other. The two schools of thought here are either you've blended away the individuality and nuance of each vineyard OR you've created something unique where the whole is greater than the sum of its parts.

Perhaps the latter applies in this case. This wine is dark but not fiercely so, while the nose is lighter and more playful that you might expect from Sta. Rita Hills Pinot, with aromatics of cherries, dark berries and Christmas fruit cake (and that's a good thing!). Also, an incredible lightness of being, floral component is present, which lifts it even further out of the ordinary. In the mouth, the flavors are both plentiful and immediately accessible with blackberries, boysenberries and cherries coming together in a soft, well rounded mouth feel kind of way, with brown, burnished spices and leather trailing in the background. An intriguing wine, one that may well not be made again, which is full of complexity with a great breadth of flavors that linger on the long, languorous finish.
Reviewed December 12, 2006 by Dennis Schaefer.
Other reviewed wines from Drew
---
Winery: Drew
Vintage: 2004
Wine: Threesome Pinot Noir
Appellation: Sta. Rita Hills
Grape: Pinot Noir
Price: 750ml $40.00



Dennis Schaefer

Dennis Schaefer has been tasting and writing about wine for over 30 years, propelled by a continuing curiosity and burgeoning enthusiasm for discovering what's in the bottle. Blessed with catholic tastes, he enjoys everything from the obvious to the sublime. A major requirement is that the vineyard, winery and winemaker consistently perform well and fulfill their potential. Balance, concentration and complexity are key to the tasting experience but, in the end, the purpose of wine is simply to give pleasure.