---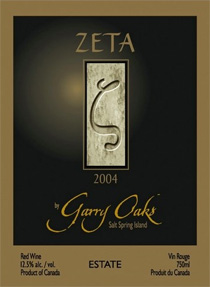 Garry Oaks Winery
2004 Zeta, Estate
(Salt Spring Island)
One of two wineries on Salt Spring Island, Garry Oaks has dedicated most of its vineyard to Pinot Noir, Pinot Gris and Gewürztraminer. There is, however, a small planting of Zweigelt, the Austrian red variety that ripens reliably on coastal British Columbia. Winery owners Marcel Mercier and Elaine Kozak wanted an estate-grown red with the potential of being more robust than Pinot Noir.

At least three Okanagan producers also grow Zweigelt. All have found that it is a slow seller because consumers are not familiar with the variety and don't know how to pronounce it. Peachland's Deep Creek Wine Estates discovered it was much easier to sell the wine simply calling it "Z". Reflecting their somewhat academic backgrounds, Mercier and Kozak have come up with Zeta which, as they explain on the back label, is the Greek word for Z.

When grown on Salt Spring Island, Zweigelt is significantly different from the sometimes plump Okanagan versions. This wine shows a remarkable spiciness on the aroma and on the palate, beginning as white pepper when freshly opened and mellowing to cinnamon a day later. Medium-bodied, the wine tastes of red currants and sour cherries, with a fresh piquant finish. 86 points.
Reviewed December 14, 2006 by John Schreiner.
Other reviewed wines from Garry Oaks Winery
---
Winery: Garry Oaks Winery
Vineyard: Estate
Vintage: 2004
Wine: Zeta
Appellation: Salt Spring Island
Grape: Zweigelt



John Schreiner

John Schreiner has been covering the wines of British Columbia for the past 30 years and has written 10 books on the wines of Canada and BC. He has judged at major competitions and is currently a panel member for the Lieutenant Governor's Awards of Excellence in Wine. Both as a judge and as a wine critic, he approaches each wine not to find fault, but to find excellence. That he now finds the latter more often than the former testifies to the dramatic improvement shown by BC winemaking in the past decade.