---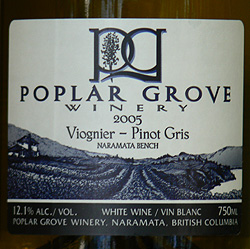 Poplar Grove Winery
2005 Viognier - Pinot Gris
(Okanagan Valley)
The wines from Poplar Grove Winery are among the most sought-after wines in British Columbia – the reds because of their longevity and the whites because of their originality. This unusual blend of Viognier and Pinot Gris is an example of the latter.

Opened in 1997, the winery is owned by Ian and Gitta Sutherland. She is a nurse but has become a widely admired grape grower. He is a former pipefitter. Self-taught as a winemaker, he polished his skills by doing a series of crushes at New Zealand and Australian wineries. During one of those working sabbaticals, he also picked up the art of making cheese, subsequently setting up the nationally-licensed Poplar Grove Cheese Company. The winery, based on the Naramata Bench, has a capacity for about 3,000 cases a year. The wines sell quickly. When not available at the winery, they may still be on good restaurant wine lists.

This wine begins with an aroma packed with fruit – mango, banana, pineapple. There is a hint of smokiness, perhaps because the Viognier in the blend was fermented in barrel. The rich palate has a medley of flavours, including ripe mango, pineapples, ripe apples, with a fleshy texture. The finish of this complex wine does not want to quit. This tour de force is likely to inspire others to make similar blends. 91 points.
Reviewed December 14, 2006 by John Schreiner.
Other reviewed wines from Poplar Grove Winery
---
Winery: Poplar Grove Winery
Vintage: 2005
Wine: Viognier - Pinot Gris
Appellation: Okanagan Valley
Grapes: Viognier (65%), Pinot Gris / Grigio (35%)
Price: 750ml $24.00



John Schreiner

John Schreiner has been covering the wines of British Columbia for the past 30 years and has written 10 books on the wines of Canada and BC. He has judged at major competitions and is currently a panel member for the Lieutenant Governor's Awards of Excellence in Wine. Both as a judge and as a wine critic, he approaches each wine not to find fault, but to find excellence. That he now finds the latter more often than the former testifies to the dramatic improvement shown by BC winemaking in the past decade.