---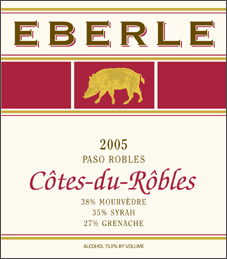 Eberle Winery
2005 Côtes-du-Rôbles
(Paso Robles)
Gary Eberle has often been a man ahead of his time. He arrived in Paso Robles in 1973, when it was hardly what you'd call wine country. He was the first California vintner to produce a wine that was 100 percent Syrah (and had at least one wine writer tell him that there was no Syrah in California, so the wine must be Petite Sirah).

When Eberle first produced a blend of Mourvedre, Syrah and Grenache called Côtes-du-Rôbles, he had to explain it to everyone. (Blend of Rhone grapes, play on Cotes-du-Rhone, get it?) Eventually, he discontinued the wine. Now it seems that everyone in Paso Robles (and Barossa Valley and elsewhere) produces this sort of blend, so Côtes-du-Rôbles is finally back after a 10-year hiatus.

Each grape variety was fermented separately; upon completion of malolactic fermentation, the blend was made, and the wine went into French oak barrels (20 percent new) and aged for 16 months. The result is an easy-to-drink, medium-weight wine with plenty of juicy strawberry and black raspberry flavors, accented by a note of mocha. It's nicely balanced, with a long finish. You could drink it with something full-flavored and fancy, but at $20, Côtes-du-Rôbles is reasonably enough priced to drink with a pizza.
Reviewed December 20, 2006 by Laurie Daniel.
---
Winery: Eberle Winery
Vintage: 2005
Wine: Côtes-du-Rôbles
Appellation: Paso Robles
Grapes: Mourvedre / Mataro (38%), Syrah / Shiraz (35%), Grenache (27%)
Price: 750ml $20.00



Laurie Daniel

Laurie Daniel, wine columnist for the San Jose Mercury News, has been reviewing wine for more than 10 years. She doesn't use numbers, preferring to describe her recommended wines and let consumers decide for themselves. Laurie believes that bigger isn't necessarily better; she's partial to wines of balance, finesse and character. Her particular interests are Pinot Noir (versions that really taste like Pinot, that is) and aromatic whites like Sauvignon Blanc, Riesling and Gewürztraminer.