---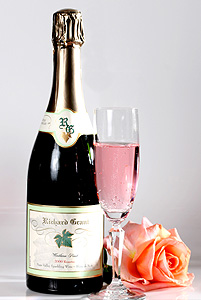 Richard Grant Wines
2000 Wrotham Pinot Reserve Blanc de Noir
(Napa Valley)
As an author of a Champagne guide book and a professional sabreur, I consider myself somewhat of a bubbly expert. When Holly Peterson presented this wine to me recently I couldn't help but think, "Oh, that's nice, another California sparkling wine to try." Never in my wildest imagination would I have been so riveted by a non-French bubbly!

Holly's father Dr. Richard Grant Peterson, who was winemaster at Beaulieu Vineyards, Atlas Peak, and Folie a Deux, designed the steel barrel pallet used by wineries around the world, produced California's first Botrytis Sauvignon Blanc, pioneered California's largest Sangiovese planting, and created several international wine brands, crafted this stunning, 100% Pinot Noir Methode Champenoise. Intrigued by an unusual wild grapevine thought to have been brought to southeastern Britain 2000 years ago by the Romans, he imported cuttings of this "Wrotham" clone to California, where it was confirmed as Pinot Noir by UC Davis. Naturally resistant to Powdery Mildew, the vineyard is able to be farmed organically.

This wine is precise, brisk, layered, complex, ageable, and food friendly. It has notes of strawberry, meyer lemon, white peach, allspice, rose petal, orange flower water, and that nutty, yeasty, autolytic character found in Champagnes such as Roederer Cristal, Bollinger R.D., and Krug. Rappers, take note. This is a new benchmark for sparkling wine for California, and for the world.
Reviewed December 28, 2006 by Catherine Fallis.
---
Winery: Richard Grant Wines
Vintage: 2000
Wine: Wrotham Pinot Reserve Blanc de Noir
Appellation: Napa Valley
Grape: Pinot Noir
Price: 750ml $60.00



Catherine Fallis

Founder and President of Planet Grape LLC, a company committed to bringing the joy of wine, food, and good living into the lives of everyday people, Catherine is creator of the "grape goddess guides to good living," a series of books, television presentations, seminars, and e-learning programs. The fifth woman in the world to become a Master Sommelier, grape goddess Catherine Fallis is still very much down-to-earth.