---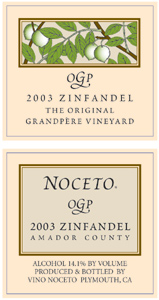 Vino Noceto
2003 OGP Zinfandel, Original Grandpere Vineyard
(Sierra Foothills)
Jim & Suzy Gullett bought 21 acres of land in Amador County's Shenandoah Valley in 1984 and after a lot of thought made the decision to plant Italian varietal grapes.

Through diligent search, the couple discovered Sangiovese Grosso growing at nearby Monteviña and three different clones of Sangiovese at UC Davis. An effort to find quality plant material for Aglianico proved fruitless, but the Sangiovese project seemed a perfect fit. So Sangiovese became the family primary grape, and it became a star.

Through the last 17 years (the first harvest was 1990), Vino Noceto's has arguably been the best Sangiovese in California, notably the least expensive of its various wines because the "normale," as Jim and Suzy call it, was not over-ripe or aged in too much new oak. It was proof that the gold country of the Sierra foothills did well with the grape, and soon the Gulletts added another 18 acres adjacent to their original planting – a parcel that had on it an 1887 ranch house.

In the last five years, the Gulletts added a Barbera and a Zinfandel to the project, and this wine, a big Zin, proves the value of a great vineyard. The Grandpere property is nearly 150 years of age and still produces a crop of about 4 tons per acre!

This wine has a bright berry-violet aroma with hints of black pepper and subtle spices. The alcohol is a modest 14.1% and the wine has the acidity to work with a wide variety of Italian tomato-laced dishes.
Reviewed January 20, 2007 by Dan Berger.
---
Winery: Vino Noceto
Vineyard: Original Grandpere Vineyard
Vintage: 2003
Wine: OGP Zinfandel
Appellation: Sierra Foothills
Grape: Zinfandel
Price: 750ml $28.00



Dan Berger

Dan Berger has been reviewing wine for 30 years, always seeking character related to varietal type and regional identity. He has never used numbers to rank wine and doesn't plan to start any time soon. He believes that weight and concentration aren't the only worthy aspects of wine and is especially smitten by cool-climate and food-friendly wines that offer distinctiveness.