---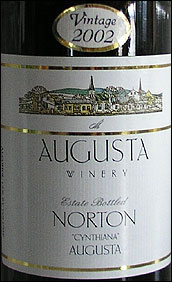 Augusta Winery
2002 Norton "Cynthiana", Estate Bottled
(Augusta)
It was the first day of deer season, and Tony Kooyumjian was out in the woods somewhere instead of at Augusta Winery, which he operates. Gloria was there, however, and she poured me a glass of their estate bottled 2002 Norton. This wine won the Governor's Cup in 2004 with good reason. Aged in American oak, Augusta manages to avoid the herbaceous taste or overly-alcohol finishes found in many Nortons. The bouquet is black cherry and cedar, and the warm berry taste is full to the end. Ageing will tame Augusta's 2002 Norton into a wine closely resembling a good Merlot, but, even now, this is the wine to have on a winter's night with a nice steak.
Tony's vineyard encompasses 43 acres on the 3rd ridge (as Gloria called it) going up a large hill. He has another 80 or so acres mainly contracted out to other wineries, including Montelle Winery, which he also operates in Augusta. Interestingly, what is called "Norton" at Augusta Winery is called "Cynthiana" at Montelle. I don't know if the grapes are from the same block, but the Montelle wine did not seem to have the cedar nose.
There is much debate about the provenance of Norton/Cynthiana (including genetic testing) and if they are indeed one-in-the-same. French grape growers would call this "cépage," which means closely related but not identical grape varieties. Gloria thinks it's called Norton because more people are familiar with that name than with Cynthiana. I'll have to ask Tony what he thinks after deer season.
Reviewed November 12, 2005 by Tim Pingelton.
Other Awards & Accolades
AppellationAmerica - "Appellation Signature" selection
This wine carries big, ripe berry which a couple of the Appellation Discovery Panelists found "over the top, but good." One taster respectfully called it an "in your face" Norton. The nose is complex, with oak and earthiness, and the finish is long. This wine is an illuminated portrait, not wallpaper.
---
Winery: Augusta Winery
Vineyard: Estate Bottled
Vintage: 2002
Wine: Norton "Cynthiana"
Appellation: Augusta
Grape: Norton / Cynthiana



Tim Pingelton

As a professional winemaker and writer, Tim Pingelton understands how growing conditions and vinification techniques affect the grapes as they become wine. As an Appellation America correspondent, he realizes that a balance must be struck between standards in flux and standards fixed in time. Tim continually explores the areas about which he writes to personally relate how their wines do or do not embody appellation-specific characteristics.