---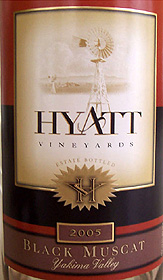 Hyatt Vineyards
2005 Black Muscat Rosé
(Yakima Valley)
The epitaph for my gravestone was copyrighted many moons ago…He never met a Muscat he didn't like. Contrary to the denigrating comments of them what think Muscats all taste the same, or, worse still, lack "pedigree", the sheer range of aromatics in the Muscat family exceeds anything else viticultural and rivals the annual Chelsea flower bonanza for variation-on-a-theme. As for "pedigree" …humph…this is the original delivering mother vine, the veritable Mayflower of the wine culture!

So, with my intelligent-cum-sensitive bias revealed, let me say that the Hyatt Black Muscat was (initially) a scary, walk on the wild side. A rusty cherry rose color, it has a distinct, but not overpowering, strawberry and rose-floral nose…very subtle and intriguing aromatics here, particularly for a Muscat. And then WHAM! On the palate the flavors run to plums and black cherry, but the dominant theme in the flavor is spice, notably cinnamon, like the Redhot (jawbreakers) we sucked on as kids and watched the other guy's expression of awe. Indeed, I have never tasted a more cinnamon infused wine than this. Along with the racy, peppery quality there is a slight bitterness that is pronounced in the finish, which, surprisingly, really works for me. And that's not the end of the paradoxes. Despite 2.8% residual sugar, this is not a particularly sweet wine. In fact, I think it is very much a food wine; having the oomph to pair with stir-fried Asian dishes and the summer-ish exuberance to bring excitement even to the modest fare of picnic cold chicken and deviled eggs.
Reviewed February 25, 2007 by Roger Dial.
Other reviewed wines from Hyatt Vineyards
---
Winery: Hyatt Vineyards
Vintage: 2005
Wine: Black Muscat Rosé
Appellation: Yakima Valley
Grape: Black Muscat
Price: 750ml $6.99



Roger Dial

Under various hats (winegrower/maker/negotiant/writer) Roger Dial has been tasting wine professionally for 40 years. He regards varietal and regional diversity as the best virtues of wine, and is ever-suspicious of the quest (by producers and critics, alike) for "universal greatness". His tasting regime is simple: Is the wine technically sound? Is it interesting? Warning: he's a sucker for all aromatic varieties.