---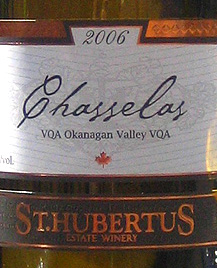 St. Hubertus Estate Winery
2006 Chasselas
(Okanagan Valley)
Rarely seen in Canada, Chasselas is the primary white variety in Switzerland, where it is also known as Fendant. It is believed to be in only two Okanagan vineyards, one of which is St. Hubertus, a winery operated by two brothers originally from Switzerland. Leo Gebert was trained – it sounds like a Swiss cliché – as a banker. He preferred farming but found Swiss land prices prohibitive. Attracted by British Columbia's mountains, he purchased a historic vineyard near Kelowna in 1984. His younger brother, Andy, formerly a yacht skipper in the Caribbean, joined him and they opened the winery in 1991.

The brothers have enjoyed considerable success with Chasselas, even exporting it to Switzerland. Invariably, the wine is light and refreshing. Their 2006 Chasselas, with 10.6% alcohol, is easy to quaff. Soft in texture, it has aromas and flavours of McIntosh apples, finishing with an appealing freshness. 87 points.
Reviewed July 25, 2007 by John Schreiner.
---
Winery: St. Hubertus Estate Winery
Vintage: 2006
Wine: Chasselas
Appellation: Okanagan Valley
Grape: Chasselas
Price: 750ml $15.99



John Schreiner

John Schreiner has been covering the wines of British Columbia for the past 30 years and has written 10 books on the wines of Canada and BC. He has judged at major competitions and is currently a panel member for the Lieutenant Governor's Awards of Excellence in Wine. Both as a judge and as a wine critic, he approaches each wine not to find fault, but to find excellence. That he now finds the latter more often than the former testifies to the dramatic improvement shown by BC winemaking in the past decade.