---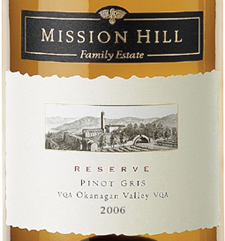 Mission Hill Winery
2006 Reserve Pinot Gris
(Okanagan Valley)
Pinot Gris is the second most widely planted white in British Columbia. It is a fair bet the variety will overtake Chardonnay in the next several years because the wines are so popular. Mission Hill builds some complexity into this Pinot Gris to contrast it with its hugely popular Pinot Grigio, which is totally cheerful and fruit forward.

Both wines are example of what appeals to consumers about the variety: abundant and delicious fruit flavours, usually without the perceived heaviness of Chardonnay. The Reserve Pinot Gris has spice and grapefruit in the aroma and flavours of pears and apples, with a hint of nuttiness on the finish. To ensure that this is not just a simple fruit bomb, the winery fermented about seven percent of the wine in new French oak. That is likely the source of the spice and some of the fleshy textural elements.
Reviewed October 5, 2007 by John Schreiner.
Other reviewed wines from Mission Hill Winery
---
Winery: Mission Hill Winery
Vintage: 2006
Wine: Reserve Pinot Gris
Appellation: Okanagan Valley
Grape: Pinot Gris / Grigio
Price: 750ml $21.99



John Schreiner

John Schreiner has been covering the wines of British Columbia for the past 30 years and has written 10 books on the wines of Canada and BC. He has judged at major competitions and is currently a panel member for the Lieutenant Governor's Awards of Excellence in Wine. Both as a judge and as a wine critic, he approaches each wine not to find fault, but to find excellence. That he now finds the latter more often than the former testifies to the dramatic improvement shown by BC winemaking in the past decade.