---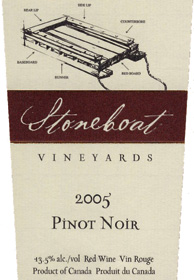 Stoneboat Vineyards
2005 Pinot Noir
(Okanagan Valley)
Newly opened in the spring of 2007, this winery is the culmination of 23 years of viticulture by Lanny Martiniuk and his family. A man of many careers (from towboat operation to nuclear medicine), Martiniuk is one of the leading grape propagators in the Okanagan. This winery was launched with the help of consulting winemaker Lawrence Herder while Martiniuk's son, Jay, is studying to be a winemaker.

Through his vine nursery business, Martiniuk has access to a good variety of plant material. One result is that he is growing three clones of Pinot Noir. That accounts for the rich palate in this wine, tasting of cherries, raspberries, chocolates and spice. The aromas are of cherries and black pepper. The wine is full-bodied, with a silky texture. The bottom line: a cheerful, satisfying glass of wine. The winery produced 472 cases and, in a coup of a new winery, has it on the list at Bishop's, arguably Vancouver's best restaurant. 86 points.
Reviewed November 15, 2007 by John Schreiner.
Other reviewed wines from Stoneboat Vineyards
---
Winery: Stoneboat Vineyards
Vintage: 2005
Wine: Pinot Noir
Appellation: Okanagan Valley
Grape: Pinot Noir
Price: 750ml $21.90



John Schreiner

John Schreiner has been covering the wines of British Columbia for the past 30 years and has written 10 books on the wines of Canada and BC. He has judged at major competitions and is currently a panel member for the Lieutenant Governor's Awards of Excellence in Wine. Both as a judge and as a wine critic, he approaches each wine not to find fault, but to find excellence. That he now finds the latter more often than the former testifies to the dramatic improvement shown by BC winemaking in the past decade.