---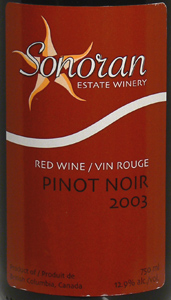 Sonoran Estate Winery
2003 Pinot Noir
(Okanagan Valley)
Recently released, this is a solid, budget Pinot Noir from a three-year-old winery not previously known for the variety. Along with Merlot, Chardonnay, Riesling and Gewürztraminer, it was one of the varieties planted by Arjan and Ada Smits, who moved to the Okanagan in 2000 after selling a flower business in the Fraser Valley. Immigrants from Holland, they have horticulture in their blood and have recently planted a second vineyard in nearby Summerland. The winemaker is their son, Adrian, who has been mentored by a consultant.

This Pinot begins with aromas of strawberries, lifted with a note of toastiness. The hue is typically light (for Pinot Noir) but, as usual, the wine is full, almost fleshy on the palate. The flavours are abundantly fruity, showing strawberry, raspberry and chocolate, with a lightly spicy finish. While not particularly complex, it is a satisfying example of the variety. 86 points.
Reviewed November 15, 2007 by John Schreiner.
---
Winery: Sonoran Estate Winery
Vintage: 2003
Wine: Pinot Noir
Appellation: Okanagan Valley
Grape: Pinot Noir
Price: 750ml $19.90



John Schreiner

John Schreiner has been covering the wines of British Columbia for the past 30 years and has written 10 books on the wines of Canada and BC. He has judged at major competitions and is currently a panel member for the Lieutenant Governor's Awards of Excellence in Wine. Both as a judge and as a wine critic, he approaches each wine not to find fault, but to find excellence. That he now finds the latter more often than the former testifies to the dramatic improvement shown by BC winemaking in the past decade.