---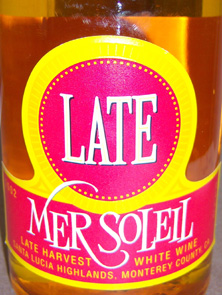 Mer Soleil Winery
2002 LATE
(Santa Lucia Highlands)
Charlie Wagner II must have thought he'd died and gone to heaven when he discovered Botrytis cinerea in a patch of his Viognier. Which is roughly the feeling I had rolling this copper gold syrup around my mouth. To be sure, the coming rapture was foretold by the wine's intense honey, apricot, melon and freshly mown hay fragrances.

Like icewine vingnerons (who dearly wish they had some noble rot to speed things up), Wagner patiently waited out the calendar while his moldy little minions went about their dehydrating business. Harvest didn't come until December 7th when the little rotters had done their duty to the tune of 46 percent Brix. Fermentation was stopped with 30 percent residual sugar, rendering a gooey lusciousness that balances nicely with the acidity and alcohol.

The trouble with these wines is that we tend to set them aside for a special occasion. I encourage readers to follow my lead on this front. I paired this "special occasion" wine with scrambled eggs because it was Saturday morning. Or was it a Wednesday? Who cares; any day's a good day to go to heaven.
Reviewed March 12, 2008 by Roger Dial.
Other reviewed wines from Mer Soleil Winery
---
Winery: Mer Soleil Winery
Vintage: 2002
Wine: LATE
Appellation: Santa Lucia Highlands
Grape: Viognier
Price: 375ml $38.99



Roger Dial

Under various hats (winegrower/maker/negotiant/writer) Roger Dial has been tasting wine professionally for 40 years. He regards varietal and regional diversity as the best virtues of wine, and is ever-suspicious of the quest (by producers and critics, alike) for "universal greatness". His tasting regime is simple: Is the wine technically sound? Is it interesting? Warning: he's a sucker for all aromatic varieties.