---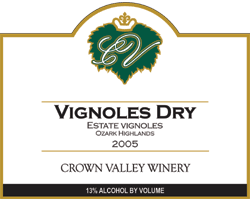 Crown Valley Winery
2005 Vignoles Dry, Estate
(Ozark Highlands)

When it's time for a Chardonnay, reach instead for that bottle of Crown Valley 2005 Vignoles Dry. Change is good.

It looks like some Chardonnays — completely golden, but in a hock bottle instead of a burgundy bottle. Close to the nose, it's warm, fresh cantaloupe/melon with very soft oak. Creamy in the mouth, with medium body, it finishes with invigorating back-palate acidity. This white is both crisp and warming. Lick your lips — acidity reads like neat saltiness.

Many wineries produce Vignoles in Missouri, but dry Vignoles are rare. This estate wine seems to express a character unique to the Ozark Highlands. It is without the diacetyl "butteriness" of many new-world Chardonnays and has the body and youthful vigor of the Chardonnay typical of the Chablis region of France. This Vignoles (aka Ravat 51) is closer to a Chablis Chardonnay than is a typical Missouri Chardonel (off-spring of Chardonnay and Seyval Blanc).

You'll be glad you pulled the Crown Valley Vignoles Dry. It's perfect while chatting before the meal, and it carries perfectly into the chicken entrée.
Reviewed April 30, 2008 by Tim Pingelton.
Other reviewed wines from Crown Valley Winery

Crown Valley Winery


2006 Chardonel Brut
(Ozark Highlands)
Tim Pingelton 12/20/2007

Crown Valley Winery


2005 Riesling Dry
(America)
Tim Pingelton 12/14/2007

Crown Valley Winery
2002 Norton
(Missouri)
Catherine Fallis 8/29/2007

Crown Valley Winery


2005 Casper White
(Ozark Mountain)
Tim Pingelton 7/11/2007
---
Winery: Crown Valley Winery
Vineyard: Estate
Vintage: 2005
Wine: Vignoles Dry
Appellation: Ozark Highlands
Grape: Vignoles / Ravat
Price: 750ml $15.00



Tim Pingelton

As a professional winemaker and writer, Tim Pingelton understands how growing conditions and vinification techniques affect the grapes as they become wine. As an Appellation America correspondent, he realizes that a balance must be struck between standards in flux and standards fixed in time. Tim continually explores the areas about which he writes to personally relate how their wines do or do not embody appellation-specific characteristics.