---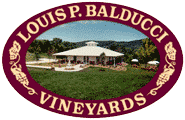 Louis P. Balducci Vineyards
2003 Port
(Augusta)
Thorough research into relaxation (what it is, how I can get more of it) has revealed numerous definitions of the word "relaxation." The definition illustrated at Louis P. Balducci Vineyards is "alert relief from tension." I have ridden out two storms in the clean, comfortable Balducci tasting room/restaurant. The fall storm issued in refreshing wafts of wet vineyard, and the winter storm was kept without by heaters in the now enclosed patio. I blithely toasted the fierce winter wind outside with a glass of Balducci's ruby red port.
Despite 9% residual sugar, the treacle-like oversweetness of some ports is balanced-out here by a full, crisp body and a warming 18.6% alcohol by volume. Careful contemplation, with my feet up on the chair next to me, revealed chocolate, maple syrup, and dried fruit aromas and tastes from this Norton/Couderic blend. The aromas command tasting; the taste invokes relaxation. This was the perfect finish to a slow baked brie and pizza dinner at the winery. Illuminated artwork and matching piped-in jazz comfortably awakened the senses. The owners and employees were very nice, and I did not want to leave. But, being the serious researcher than I am, I had to get back to append my treatise on relaxation with a full report on the Louis P. Balducci Vineyard and their port.
$22.99/750mL
Reviewed January 11, 2006 by Tim Pingelton.
---
Winery: Louis P. Balducci Vineyards
Vintage: 2003
Wine: Port
Appellation: Augusta
Grapes: Norton / Cynthiana, Couderc Noir



Tim Pingelton

As a professional winemaker and writer, Tim Pingelton understands how growing conditions and vinification techniques affect the grapes as they become wine. As an Appellation America correspondent, he realizes that a balance must be struck between standards in flux and standards fixed in time. Tim continually explores the areas about which he writes to personally relate how their wines do or do not embody appellation-specific characteristics.