---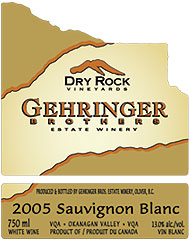 Gehringer Brothers Estate Winery
2005 Sauvignon Blanc, Dry Rock Vineyards
(Okanagan Valley)
When the Gehringer brothers expanded their vineyard, buying the adjoining property in 1995 (which they call the Dry Rock Vineyard), it still was planted largely with hybrid varieties. They replanted, but not with the German varieties they had built their reputation on; instead, they filled the vineyard with such French vines as Chardonnay, Sauvignon Blanc, Cabernet Franc, Cabernet Sauvignon and Merlot.
This decision, while somewhat market driven, resulted from the brothers noting that the Okanagan climate is warming and the French varieties no longer are as risky as they once were. Today, there is plenty of data and research to support that. A decade ago, the Gehringers were among the first in the valley to pick up on the warming trend. Now well established, their French vines are performing very well. The Dry Rock Sauvignon Blanc, for example, is as crisp and refreshingly zesty as a New Zealand Sauvignon Blanc. It is an immensely satisfying white, beginning with its lively spearmint aroma. The flavours carry through with mint, gooseberry and minerals. The edgy acidity gives the wine both grip and a cleansing finish. New Zealand vintners will be envious. 88 points.
Reviewed July 4, 2006 by John Schreiner.
Other reviewed wines from Gehringer Brothers Estate Winery
---
Winery: Gehringer Brothers Estate Winery
Vineyard: Dry Rock Vineyards
Vintage: 2005
Wine: Sauvignon Blanc
Appellation: Okanagan Valley
Grape: Sauvignon Blanc
Price: 750ml $14.99



John Schreiner

John Schreiner has been covering the wines of British Columbia for the past 30 years and has written 10 books on the wines of Canada and BC. He has judged at major competitions and is currently a panel member for the Lieutenant Governor's Awards of Excellence in Wine. Both as a judge and as a wine critic, he approaches each wine not to find fault, but to find excellence. That he now finds the latter more often than the former testifies to the dramatic improvement shown by BC winemaking in the past decade.