---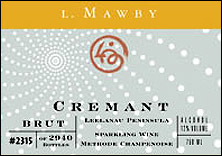 L. Mawby Vineyard
NV L. Mawby Cremant 'Brut', Estate
(Leelanau Peninsula)
Direct producer varieties may take second place to vinifera when it comes to sparkling wines over $20. You may continue to believe that until you taste L. Mawby Cremant Brut, produced from estate-grown Vignoles in Mawby's Cremant vineyard in Michigan's Leelanau Peninsula AVA.

Fine bubbles and a delicate mousse indicate superior production methods. Grilled sourdough bread notes are enhanced by aromatically intense fruit, also mirrored as distinctive flavors, showcasing hints of apricot, clove and cinnamon. Nutty notes complement a finish with outstanding balanced acidity.

To create unique aromas and flavors, juice from hand-picked Vignoles grapes were whole-cluster pressed then fermented in small oak cooperage. Reserve wines were blended with the new wine and fermented a second time in the bottle before aging en tirage, riddling by gyropalette and dégorgement.

Dismiss your understanding of the term crémant as it applies to French Champagne, meaning a style of wine that's somewhat less sparkling than fully sparkling, or mousseux (wine at about half the normal pressure). Crémant also designates certain sparkling wines produced in France by the méthode champenoise but falling outside the Champagne region boundaries, such as Crémant d'Alsace and Crémant de Loire. Placing L. Mawby Cremant in this category is not OK. This bubbly carries distinct Leelanau Peninsula AVA characteristics that you'll only understand if you taste it.
Reviewed July 20, 2006 by Eleanor & Ray Heald.
Other reviewed wines from L. Mawby Vineyard
---
Winery: L. Mawby Vineyard
Vineyard: Estate
Vintage: NV
Wine: L. Mawby Cremant 'Brut'
Appellation: Leelanau Peninsula
Grape: Vignoles / Ravat
Price: 750ml $24.00



Eleanor & Ray Heald

The Healds have been writing about wine since 1978 and have focused on appellation significance in many of their world beat writings. They value recognizing site personality (terroir) within an appellation's wines. They praise balance and elegance in wines styled to pair well with food and eschew over-extraction, high alcohol and heavy-handed oak. "Delicious" is their favorite descriptor for a great, well-made wine.