---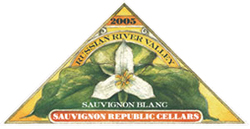 Sauvignon Republic Cellars
2005 Sauvignon Blanc
(Russian River Valley)
John Buechsenstein is a balding, heavily bearded man whose passions in life are the aromatic compounds in wine. Long a winemaker specializing in red wines, John B (as he is called, few people willing to learn that his name is pronounced bix-en-stine) has recently carved out a niche for himself as America's foremost sensory evaluation expert. His classes in the subject at UC Davis are legendary.

After years making wine in Mendocino County in relative obscurity, John became winemaker for the small Fife Vineyards and before long his Zinfandels, Petite Sirahs and other rich red wines were gaining a devoted following.

"After making red wine for all those years, I needed to prove I could still make white," he said in 2003. Soon after a partnership was formed with three others to make only one wine: Sauvignon Blanc. The partners agreed that the project, Sauvignon Republic, would specialize in the grape that seems to do well in many areas of the world. The idea was the ultimate in terroir exploration: Buechsenstein would make Sauvignon Blanc from as many areas of the world as he could.

This wine is proof that John B is on the right track. It has stylish brisk bright fruit of gooseberry and lime with faint tropical fruit notes and hints of wild raspberry and juniper. Unlike so many Sauvignon Blancs these days, it is dry and has that sort of mouth-watering finish that cries out for grilled seafood, perhaps with a salsa topping.
Reviewed July 24, 2006 by Dan Berger.
---
Winery: Sauvignon Republic Cellars
Vintage: 2005
Wine: Sauvignon Blanc
Appellation: Russian River Valley
Grape: Sauvignon Blanc
Price: 750ml $16.00



Dan Berger

Dan Berger has been reviewing wine for 30 years, always seeking character related to varietal type and regional identity. He has never used numbers to rank wine and doesn't plan to start any time soon. He believes that weight and concentration aren't the only worthy aspects of wine and is especially smitten by cool-climate and food-friendly wines that offer distinctiveness.