---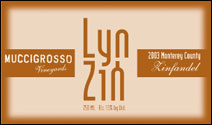 Muccigrosso Vineyards
2003 "Lyn Zin" Zinfandel
(Monterey County)
Some of the fruit for this wine comes from winery owner Michael Muccigrosso's mountainside property, about a mile from my house. We often look down on this lovely Zinfandel vineyard as we hike through the rugged ridgetops that make the Santa Cruz Mountains such a challenging place to travel and to farm. It's steep, rocky, wetter than spit in the winter, and hotter than blazes on summer afternoons. Most often, it cools significantly at night, which is perfect for Pinot but not so super for Zin. And then, there's the fog, with which we have a love-hate relationship. We love the fog, but so does mildew. Growing Zin requires the burners on high: and this area is not one of those gas stoves. Michael's vineyard blooms late and ripens late, and I'm always amazed he gets any fruit from it at all. Thus, the Monterey designation for this wine, as most of the fruit came from south of us where the warm soils and sunshine work their magic on this sun-thirsty variety.

Named for Michael's wife Lynne, this wine has been a consistent medal winner in all the competitions it has entered, (it took Silver at the 2006 San Francisco Chronicle competition) and is a favorite at parties in our neighborhood, where practically everyone makes wine or works for a local winery. The aromas of earth and clay tell you it comes from Monterey, and the dried mulberry and boysenberry notes promise a wine with something more than jam at its core. On the palate, it is a wow! It's an enticing stew of tomatoes and peppercorns (white, red and black), combined with a zingy cherry compote laced with dark Madagascar cinnamon. This wine possesses a great acid core, a soft and supple mouthfeel, and a solidity that gives it style and staying power. Meant for food, it has the stones and bones to stand up to hot chile spice, but goes perfectly nicely with just about anything you'd find at a typical summer party. It's that dependable pony you can saddle up and take anywhere: it won't bite your butt and you know it won't throw you.

(Alc: 15%, Retail: $18)
Reviewed July 25, 2006 by Laura Ness.
Other reviewed wines from Muccigrosso Vineyards
---
Winery: Muccigrosso Vineyards
Vintage: 2003
Wine: "Lyn Zin" Zinfandel
Appellation: Monterey County
Grape: Zinfandel
Price: 750ml $18.00



Laura Ness

A wine writer and wine judge for major publications and competitions around the country, Laura Ness likens wine to the experience of music. She is always looking for that ubiquitous marriage of rhythm, melody, and flawless execution. What is good music? You know it when you get lost in it. What is good wine? It is music in your mouth.