---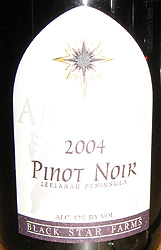 Black Star Farms
2004 Arcturos Pinot Noir
(Leelanau Peninsula)
Black Star Farms is one of the new breed of Michigan wineries, producing a full range of wines, mostly vinifera, at its impressive estate on the Leelanau Peninsula. Winemaker Lee Lutes clearly understands the importance of vintage, and stressed this in a recent tasting (Spring 2006) in which wines of various grapes from different vintages were sampled side by side.

Arcturos is their signature Pinot Noir, produced from three different vineyards, and various clones. It is aged in a mix of American and French oak, and designed with some aging potential.

Given the cool climate of the peninsula, Pinot Noir can be a challenge, but it also rewards on occasion. Although 2004 was, in the words of one local vintner, "the worst year in recent history," Lutes crafted a serious Pinot from the vintage. If you care, judges agree, since it won Gold at the 2006 Great Lakes Wine Competition, which was held just days prior to my visit.

The Arcturos Pinot shows cedary, earthy notes, and classic Pinot elements in terms of fruit. In other words, it smells like Pinot. On the palate it is dry and tannic, supported also with toasty oak. The sample bottle had actually been open for two days, and the resulting wine was supple and very drinkable. Clearly this wine can age.

For the record, this wine was sampled next to a 2001 vintage, which had traditional 'stinky' (in a good way) Pinot notes of earth and mushrooms – almost Burgundian in style - promising good things to come from the 2004.
Reviewed August 2, 2006 by Craig Pinhey.
Other reviewed wines from Black Star Farms
---
Winery: Black Star Farms
Vintage: 2004
Wine: Arcturos Pinot Noir
Appellation: Leelanau Peninsula
Grape: Pinot Noir
Price: 750ml $22.50



Craig Pinhey

Craig Pinhey is a professionally certified Sommelier, educator, wine judge, and wine writer. He is on the tasting panel for Wine Access, Canada's most respected wine magazine, and is the provincial wine columnist for the New Brunswick Telegraph Journal. Craig appears weekly on CBC Radio, and is regular beverage columnist for Halifax's The Coast, East Coast Living, Progress Magazine, and [here]: New Brunswick's Urban Voice. He prefers wines with mineral and earthy notes, distinct varietal fruit and regional character, and moderate alcohol so he can drink more of it.