---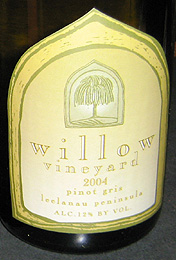 Willow Vineyard
2004 Pinot Gris
(Leelanau Peninsula)
Willow Vineyards may be the smallest winery in Michigan, producing only 1100-1200 cases, but it is certainly not small in stature, based on the quality of its wines. Great reviews could be written about their Chardonnay and Pinot Noir from the same vintage, but the Pinot Gris makes a worthwhile, unique statement.

Willow is a stone's throw from Shady Lane Cellars in Suttons Bay, with vineyards facing east towards West Traverse Bay. John Crampton is the winemaker, owning the 12 acres with wife Jo, since 1981, and opening as a winery in 1998. Everything is small scale here, and the wines are truly handmade: handpicked, pressed in a wooden basket press, and hand bottled.

The Pinot Gris' 12% alcohol makes it a moderate table wine, perfect for consumption over a long hot afternoon. It's also a great food wine, with its bright fruit (pear, green apple), minerality, tingly acid, and relatively full body. Skin contact has given the wine additional complexity, reflected in a dry, pithy character and enhanced body.
Reviewed August 7, 2006 by Craig Pinhey.
Other reviewed wines from Willow Vineyard
---
Winery: Willow Vineyard
Vintage: 2004
Wine: Pinot Gris
Appellation: Leelanau Peninsula
Grape: Pinot Gris / Grigio



Craig Pinhey

Craig Pinhey is a professionally certified Sommelier, educator, wine judge, and wine writer. He is on the tasting panel for Wine Access, Canada's most respected wine magazine, and is the provincial wine columnist for the New Brunswick Telegraph Journal. Craig appears weekly on CBC Radio, and is regular beverage columnist for Halifax's The Coast, East Coast Living, Progress Magazine, and [here]: New Brunswick's Urban Voice. He prefers wines with mineral and earthy notes, distinct varietal fruit and regional character, and moderate alcohol so he can drink more of it.