---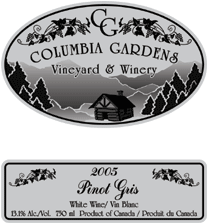 Columbia Gardens Vineyard & Winery
2005 Pinot Gris, Skimmerhorn Vineyard
(British Columbia)
This wine represents a first on two counts. The grapes are from the first harvest at a 14-acre vineyard planted in 2003 near Creston, the first one established in the heart of British Columbia's Doukobor country. After 21 years of growing fruit, Al and Marleen Hoag sold their orchards in 2005 and are investing the capital in their Skimmerhorn Vineyard and Winery, expected to open in 2006. It will be the second winery in the Kootenay region, after Columbia Gardens in nearby Trail, which opened in 2001, inspiring the Hoags to follow suite.

Columbia Gardens was able to buy grapes from Skimmerhorn's first harvest, producing the winery's first Pinot Gris. The wine is pale, with delicate fruit aromas and flavours of pears, apples and pineapples. There is a touch of anise on the finish, which is crisp and dry. The overall delicacy of the wine perhaps reflects the youth of the vines. However, this is a solid wine, showing the promise of this new British Columbia wine region with a mainstream varietal. 86 points.
Reviewed August 21, 2006 by John Schreiner.
Other reviewed wines from Columbia Gardens Vineyard & Winery
---
Winery: Columbia Gardens Vineyard & Winery
Vineyard: Skimmerhorn Vineyard
Vintage: 2005
Wine: Pinot Gris
Appellation: British Columbia
Grape: Pinot Gris / Grigio
Price: 750ml $15.00



John Schreiner

John Schreiner has been covering the wines of British Columbia for the past 30 years and has written 10 books on the wines of Canada and BC. He has judged at major competitions and is currently a panel member for the Lieutenant Governor's Awards of Excellence in Wine. Both as a judge and as a wine critic, he approaches each wine not to find fault, but to find excellence. That he now finds the latter more often than the former testifies to the dramatic improvement shown by BC winemaking in the past decade.