---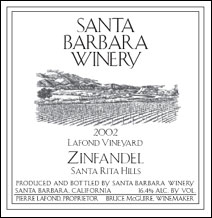 Santa Barbara Winery
2002 Zinfandel, Lafond Vineyard
(Sta. Rita Hills)
The oldest winery in Santa Barbara County, Santa Barbara Winery, founded in 1962 by Pierre Lafond, has some tricks up its sleeve. And this Zinfandel is one of them. Conventional wisdom says you don't grow Zinfandel in Santa Barbara County: the irony being that while it's one of the southern most wine growing areas in California (indeed, many folks consider this Southern California), it's too cool to grow Zin here because of the transverse (east-west) mountain range that vacuums the cooling ocean air and fog off the coast and into the vineyard valleys.

Mr. Lafond either was ignorant of conventional wisdom or thumbed his nose at it. Nearly thirty years ago he planted seven acres of Zinfandel in the coolest region of one of the coolest California growing areas: Sta. Rita Hills. He planted it on poor sandy soil on the banks of a river bed, just across and down a country road from the Sanford and Benedict Vineyard. Of course, it wasn't called Sta. Rita Hills back then and no one really knew or had yet explored the full potential of what was to become Santa Barbara County's latest AVA.

Santa Barbara Winery (in conjunction with the related Lafond Winery) has also planted Pinot Noir, Syrah and Chardonnay on their Sta. Rita Hills property. But the seven acres of old vine Zin, blowing like an anomaly in the wind, has not been grafted over or torn out. And with good reason. The long hang time the grapes get in this AVA allow the full maturation of flavors on the vine; the grapes are picked fully ripe, but not raisined, in late October. This cool climate Zin rewards you with remarkable flavor concentration, primarily intense raspberry segueing into blackberry fruit forward character, mixed with Zin typical briary/brambly undertones, though the latter are atypically soft rather than harsh, and then finishes with a grinding of fresh black pepper.

Oh, and the vintage, 2002, that's not a typo. As I said, it's a cool climate and the grapes don't get fully ripe every year. But they did in 2002. How many times can you spend $16 for a tasty bottle of red wine that's already been bottled aged by the winery and is ready to drink now?
Reviewed August 23, 2006 by Dennis Schaefer.
Other reviewed wines from Santa Barbara Winery
---
Winery: Santa Barbara Winery
Vineyard: Lafond Vineyard
Vintage: 2002
Wine: Zinfandel
Appellation: Sta. Rita Hills
Grape: Zinfandel
Price: 750ml $16.00



Dennis Schaefer

Dennis Schaefer has been tasting and writing about wine for over 30 years, propelled by a continuing curiosity and burgeoning enthusiasm for discovering what's in the bottle. Blessed with catholic tastes, he enjoys everything from the obvious to the sublime. A major requirement is that the vineyard, winery and winemaker consistently perform well and fulfill their potential. Balance, concentration and complexity are key to the tasting experience but, in the end, the purpose of wine is simply to give pleasure.