---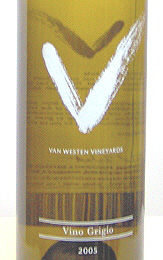 Van Westen Vineyards
2005 Vino Grigio, Home Lot Vineyard
(Okanagan Valley)
Van Westen's wines all have names beginning with V. He says that, by keeping three dictionaries on the go, he has already identified the names needed for his future releases. His red Bordeaux blend is "Voluptious." His Pinot Gris assumes the moniker "Vino Grigio." Soon to be released will be his first Viognier.

In the 2005 vintage, winery owner Robert Van Westen switched all of his wines to screw cap closures from corks, partly because the restaurant buyers of his products asked for the switch. The main reason, of course, was to preserve the fruitiness of the wines. He ferments his Pinot Gris exclusively in stainless steel to capture the fruit.

This wine begins with aromas of apples and flowers. On the palate, there are layers of fruit flavours, including pears, green melons and citrus. There is a tangy finish as well as an austere crispness that will soften with a few months of bottle age. The wine is due for release in late September, 2006. 87 points.
Reviewed August 28, 2006 by John Schreiner.
Other reviewed wines from Van Westen Vineyards
---
Winery: Van Westen Vineyards
Vineyard: Home Lot Vineyard
Vintage: 2005
Wine: Vino Grigio
Appellation: Okanagan Valley
Grape: Pinot Gris / Grigio
Price: 750ml $17.90



John Schreiner

John Schreiner has been covering the wines of British Columbia for the past 30 years and has written 10 books on the wines of Canada and BC. He has judged at major competitions and is currently a panel member for the Lieutenant Governor's Awards of Excellence in Wine. Both as a judge and as a wine critic, he approaches each wine not to find fault, but to find excellence. That he now finds the latter more often than the former testifies to the dramatic improvement shown by BC winemaking in the past decade.