---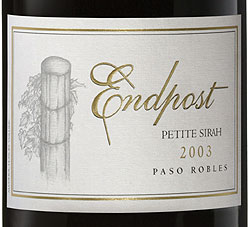 Vina Robles Winery
2003 "Endpost" Petite Sirah, Jardine Vineyard
(Paso Robles)
It's hard to find a well-balanced Petite Sirah that's also complex among the many brawny monsters or, the reverse, wanting versions in the marketplace. But Vina Robles has just released two amazing Petite Sirahs. The impressive 2004 Jardine Vineyard is nicely-balanced offering succulent flavors of wild blackberries, highlighted with blueberries and plums. It ends on a long fruity finish nuanced by smoke and spice. I thought it an excellent value at $27 retail.

And then I tasted their outstanding 2003 Petite Sirah designated "Endpost" and was swept away by its plush texture and layers of complexity. This delicious, intense wine offers aromas and flavors of sweet, ripe boysenberries, briary wild blackberries, currants, plums and blueberries, handsomely weaved with myriad spice-box notes. Yet it's continually smooth and velvety on the palate.

The Petite Sirah for this wine was also grown at the estate's Jardine Vineyard, one of their warmer sites, where alluvial sandy loam soils – primarily gravelly loam and clay loam – provide good drainage. Winemaker Matthias Gubler and his team noticed the clusters nearest the end of the trellised row had better sun exposure, making them "richer and more luscious," hence the proprietary name. At $45 retail, it's hardly an everyday wine but still a very good value for wine of this quality.
Reviewed October 11, 2006 by Kathy Marcks-Hardesty.
Other reviewed wines from Vina Robles Winery
---
Winery: Vina Robles Winery
Vineyard: Jardine Vineyard
Vintage: 2003
Wine: "Endpost" Petite Sirah
Appellation: Paso Robles
Grape: Petite Sirah
Price: 750ml $45.00



Kathy Marcks-Hardesty

Kathy Marcks Hardesty is the former Tasting Coordinator for Wine Spectator magazine. She prefers wines that exhibit classic varietal characteristics, regional identity, and the depth and balance to make a good meal great. She's just as enthusiastic about sharing news of those rare, value-priced wines of good quality. Despite her past association with wine critics, she doesn't assign numbers to wines, save in her memory (old habits die hard). She prefers writing descriptive reviews that whet the palate and leaves the final score to her readers.