---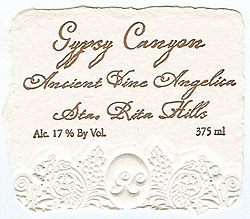 Gypsy Canyon Vineyards
NV Ancient Vine Angelica 4th Vintage, Dona Marcelina's Vineyard
(Sta. Rita Hills)

When Deborah Hall and her late husband purchased Gypsy Canyon ranch in Sta. Rita Hills in 1994 (long before it became the hottest "new" California appellation), the property was in disrepair, pretty much in shambles from neglect. Among the overgrown brush, she discovered old, gnarly vines that, while not in the greatest of health, were still alive. She cleared and cultivated the vines and sold the grapes to others as (what was thought to be) Zinfandel but, as it turned out, were Mission grapes. Upon that "discovery," she found that no one wanted to buy these grapes that were a link to California's past.

Mission grapes were, of course, regularly planted by Father Junipero Serra and the Franciscan missionaries in the 19th century as they established the missions and made their way up the coastal spine of California, providing the church their sacramental wine. In fact, Gypsy Canyon is in the shadow of one of best preserved missions, La Purisima.

In the 19th century, the Mission grape was the most widely planted variety in California. Today there are less than a thousand acres left. Deborah Hall wanted to preserve a little bit of history and decided to do something different. In her research, she found that Dona Marcelina Felix Domingeuz was the first known woman to grow grapes in California: they were Mission vines on her Santa Barbara property. Deborah named the vineyard "Dona Marcelina's" in her honor; by all accounts, this three acres of Mission vines is the oldest producing vineyard in Santa Barbara County.

But wait, there's more! Hall's research turned up pioneering California winemaker Emile Vache's notes (from 1891) on the production of "California Original Angelica." She decided to emulate that legendary dessert wine and it was worth the wait. The Mission grapes are harvested at 24 brix, cold settled, then half-way through fermentation neutral grape spirits are added. It spends two years in old French oak barrels, where it acquires a light orange/brown color. This elixir ends up at 18 percent alcohol and 9 percent residual sugar. It has intriguing resiny, sherry like aromatics, along with a honeyed sweetness on the nose. There is also a sense of well made ancient tawny port in the air. The flavors are of deep caramel and honey with an endearing splash of orange marmalade, as well as pecan pie and ripe fig.

Needless to say, you will not taste anything else like this from California. It is a unique bit of history from 19th century vines. Extremely rare, there's not enough to go around, even in 1/2 bottles. It is packaged in a one of a kind, hand blown bottle, embellished with a hand made antique paper label, and is sealed with cork topped by a wax capsule with natural bee's wax harvested from the estate. More than anything else, this represents a real sense of historical place.
Reviewed October 19, 2006 by Dennis Schaefer.
Other reviewed wines from Gypsy Canyon Vineyards
---
Winery: Gypsy Canyon Vineyards
Vineyard: Dona Marcelina's Vineyard
Vintage: NV
Wine: Ancient Vine Angelica 4th Vintage
Appellation: Sta. Rita Hills
Grape: Mission
Price: 375ml $130.00



Dennis Schaefer

Dennis Schaefer has been tasting and writing about wine for over 30 years, propelled by a continuing curiosity and burgeoning enthusiasm for discovering what's in the bottle. Blessed with catholic tastes, he enjoys everything from the obvious to the sublime. A major requirement is that the vineyard, winery and winemaker consistently perform well and fulfill their potential. Balance, concentration and complexity are key to the tasting experience but, in the end, the purpose of wine is simply to give pleasure.