---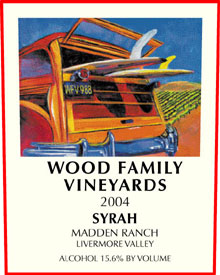 Wood Family Vineyards
2004 Syrah, Madden Ranch
(Livermore Valley)
Yes, it's John Madden, the revered football coach and Sunday night commentator, and his son Mike, who own the vineyard from whence this fruit comes. The vineyard is right next to the Ruby Hill Country Club, in one of the original areas planted to grapes in the 19th century. It's some mighty fine fruit, and you wouldn't expect anything less coming from a serious powerhouse like Madden.

Winemaker Rhonda Wood took the fruit, which was picked on September 15, 2004, and fermented it in 100% American Oak for 21 months. The barrels are 1/3 new, 1/3 one-year old and 1/3 two-years old. Interestingly enough, Greg Jenkins of Fleming-Jenkins Winery (Santa Cruz Mountains), got fruit from the same vineyard on the same day and did something completely different (see the companion review of the 2004 Madden Ranch Syrah from Fleming-Jenkins). If this doesn't showcase the role wood plays, I don't know what would. You really need to try them side-by-side as I did to appreciate the extent to which wood makes a huge difference, and in this case, it's doubly woody, as you've got Wood as the winemaker.

The rich, spicy and slightly gamey nose of the Wood Family version is reminiscent of an Aussie Shiraz. On the palate, it is meaty and plummy, with nice cassis, a hint of pepper and a smattering of ham and smoked bacon, with dark licorice starting to come through. The texture is chewy and a bit tannic, but the blueberry pie finish is quite pleasing. The American oak is definitely giving this wine a more rustic character, but as it opens, the fruit really speaks. All in all, this is a delightful wine, as is the Fleming-Jenkins sibling. In fact, both winemakers have done justice to the rich and lush Madden Ranch Syrah fruit: one unleashes it, and the other, deftly controls it.

(Alc: 15.6%, Retail: $22)
Reviewed October 20, 2006 by Laura Ness.
---
Winery: Wood Family Vineyards
Vineyard: Madden Ranch
Vintage: 2004
Wine: Syrah
Appellation: Livermore Valley
Grape: Syrah / Shiraz
Price: 750ml $22.00



Laura Ness

A wine writer and wine judge for major publications and competitions around the country, Laura Ness likens wine to the experience of music. She is always looking for that ubiquitous marriage of rhythm, melody, and flawless execution. What is good music? You know it when you get lost in it. What is good wine? It is music in your mouth.