---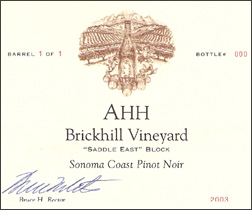 Ahh Winery
2003 Pinot Noir, Brickhill Vineyard, "Saddle Ea
(Sonoma Coast)
It has been well over a decade since Bruce Rector left Glen Ellen following the Benziger family's sale of that brand. Rector had been its head winemaker, and a brilliant tactician as the "fighting varietals" were gaining fame. After consulting for a number of projects, Bruce and his wife, Krassimira, also a winemaker, decided to open their own small brand.

And trust me: there is nothing standard or even predictable about Bruce and Krassi's Ooh and Ahh Winery. A sense of humor is embedded in everything Bruce does. Ooh and Ahh is all about the sense of fun he has always had, his New Age approach, and his keen sense of the absurd. He is a winemaker's winemaker, and is having a blast with this new project.

Ooh and Ahh makes primarily Pinot Noir from Sonoma Coast and Central Coast appellations, keeping every barrel lot separate at bottling. (Labels show which barrel was used.) Moreover, Bruce and Krassi are bottling the Pinots in 1-liter bottles only. "Krassi and I found that if the wine was really good, 750 milliliters wasn't enough for two people," he said. "This guarantees there will be enough."

One aspect of the Pinot Noirs that fascinated me was how they were aged. Bruce is credited with inventing the modern oak chip for use in fine wine. His Pinots were aged mainly in older barrels. And he readily admits the wines were made with oak chips—but in the hands of a master the wines seem to have been aged in French oak barrels.

How he discovered oak chips and the arduous path he took investigating how they could be used to make world-class wine is a story worth hearing from him.

The Brickhill Vineyard Pinot starts with clove and spice notes and you see red and black cherry fruit; and its lush, rich mid-palate is so succulent you want to drink it now. But its structure is designed to help the wine age for a few years.
Reviewed November 8, 2006 by Dan Berger.
---
Winery: Ahh Winery
Vineyard: Brickhill Vineyard, "Saddle Ea
Vintage: 2003
Wine: Pinot Noir
Appellation: Sonoma Coast
Grape: Pinot Noir
Price: 1L $52.00



Dan Berger

Dan Berger has been reviewing wine for 30 years, always seeking character related to varietal type and regional identity. He has never used numbers to rank wine and doesn't plan to start any time soon. He believes that weight and concentration aren't the only worthy aspects of wine and is especially smitten by cool-climate and food-friendly wines that offer distinctiveness.