The New Future of Iowa Grape Growing and Winemaking
"It's a new era for the winegrowers here in the state..."
~Dave Cushman, Jr., President of the Iowa Winegrowers Association
by Tim Pingelton
March 19, 2009
---

s George Fischer,
owner of Fischer Vineyards in Norwalk, Iowa, explains it, "Iowa was one of the largest wine producers in the country at one time, and then Prohibition put us out of business. The next thing that happened was a horrible storm in 1940 - the Armistice Day Storm - that killed every apple tree and grape vine in Iowa. And then they started them back again and 2,4-D killed them. Now, we're on our 3rd or 4th attempt." 2,4-D is a growth regulator herbicide widely used in Iowa corn production. It is easily dispersed over great distances by the wind, and the effects on vines vary from wilted leaves to vine death.
Now Iowa is experiencing a new era for grape growing and winemaking: the people are different, the grapes are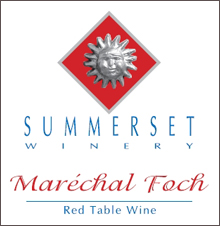 different, and production and marketing are different. And just who is leading this latest renaissance of Iowa wine might surprise you. Dave Cushman, Jr., President of the
Iowa Winegrowers Association
, notes: "There are some row-crop farmers who thought they had a section of land that really wasn't suitable for growing corn and soybeans - it had a slope to it or the soils weren't good for planting traditional Iowa crops - so they looked into putting a little bit of grapes in. But I would say the majority of grape growers in the state are new farmers who haven't done farming in the past, or at least on the scale the typical Iowa farmer does." Ron Mark, owner of
Summerset Winery
, reiterates this sentiment: "Entrepreneurs, not farmers, are planting the new vineyards."
The topography and soil characteristics in the state vary from west to east, and climate conditions vary from south to north. Dr. Paul Tabor, of
Tabor Family Winery
and Vineyards in Baldwin, Iowa, says, "In Iowa, we really have 3 zones. One zone is the south-east and south-west corners of the state. It could do very well raising Seyval Blanc. Then there is sort of a mid-portion of the state where Seyval Blanc is maybe a little too winter sensitive. And it can't grow at all in the north, a third region, say above Highway 20."
George Fischer notes that "The grapes grown back when we were young were grown in Western Iowa in that loess soil along the Missouri River, which I think today is probably the best place to grow grapes in the state." Small concentrations of Iowa wineries are found in southwest, central, and southeastern parts of the state, but more remote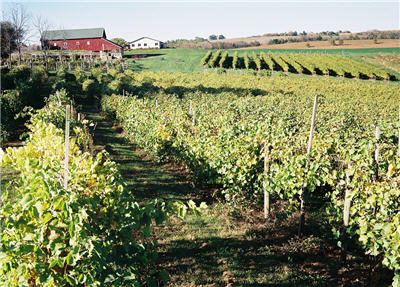 wineries are peppered throughout the state. The Iowa Wine and Beer Promotion Board recognizes five wine trails in the state, including one in the Amana Colonies of east-central Iowa.
Tom Moore, Viticulture Technician at Kirkwood Community College in Cedar Rapids, Iowa, has studied grape growing in the state. "Going north to south in Iowa, certain varieties are really favored over others. As we get into south, and especially south-east Iowa, we really are a lot more like Missouri, so certain varieties like Norton will work. If you get up into the central part of Iowa, the growing season just isn't long enough to ripen it. As you get really farther north, we are really starting to look like Minnesota. I don't think anybody's got a well-defined map. You can get a general idea by looking at the plant hardiness zones, but there are certain microclimate effects that alter that for grapes."
One such microclimate effect is a vineyard's proximity to the insulating attributes of the Mississippi River on Iowa's eastern border. Recently, a petition was filed to include parts of northeast Iowa in a proposed "Upper Mississippi Valley" appellation. The petition claims that this nearly 30,000 square mile area is unique in its geology, hydrology, topography, and soils. This would be Iowa's first recognized appellation.
The Grapes of Winter's Wrath
What grapes to plant, though, is a tough consideration. Varieties have to be cold-hardy (especially in the more northern areas), and they have to be marketable. Dave Cushman notes, "We are not at a point where I can say one varietal rules over another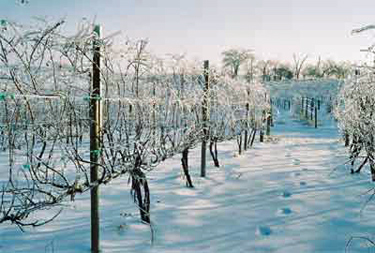 one. Some varietals have more promise. One that I am focusing on [at Park Farm Winery in northeast Iowa] for whites is
La Crescent
; I think that has huge potential. Last year was our first year producing it, and it was really well received, selling as well as our top sellers for the few months we had it available. I see that as the future for whites at this point.
"For reds, everybody is chasing the next new red to come out. I would say
Marechal Foch
has the largest planting and probably the largest history, but I am not prepared to come out and say Foch is the frappe that Iowa wants to embrace as their featured red. I think
Frontenac
has some potential, at least for making dessert- or Port-style wines or using it as a blend with Foch. But we are not at the point where Missouri is, where we can just rally behind Norton or something."
Dr. Tabor believes regional identity of Iowa wines will eventually come forth, but it will be another 20 years before that is realized. Until then, experimentation in vineyards and cellars must continue to determine what to plant and how to process the most suitable cultivars.

A wide range of white wine grapes are planted in Iowa, with
Edelweiss
,
La Crosse
, and La Crescent being the most popular. These crisp whites are typically sweetened to soften the high acidity produced by the short growing season. Grapes that flower early are subject to lingering frosts, and those that flower late receive fewer heat days to promote sugars in the berries. Making a full-bodied red is a real challenge in this state, which has the near-constant threat of frost. Winemakers are often forced to sweeten their reds or make blush wines or Ports to compensate for the unbalanced acid levels. Marechel Foch, Frontenac, and St. Croix are the predominant red grapes now, but many other cold-hardy reds are being tested. Dr. Tabor notes, "For the last 3 or 4 years, we've been working with a grape called St. Croix, an Elmer Swenson release. It is quite distinct from Foch. It is more complex, offers the possibility for more full-bodied wines, and, in terms of a premium red wine grape, it may be the bes

READER FEEDBACK: To post your comments on this story, click here
Print this article  |  Email this article  |  More about Iowa  |  More from Tim Pingelton