Sources of New York's Diversity:
A Riesling for Every Taste.
by Clark Smith
April 25, 2009
---

im Trezise knows a winner when he sees one
, and is passionate about
Finger Lakes
Riesling. "New York is home to the most diverse, high quality collection of Rieslings in the New World. Nowhere else even comes close," says the regional advocate for the
New York Grape and Wine Foundation
. Basking in the long, cool summer days that high latitude affords, New York's appellations also share proximity to broad, deep expanses of water which minimize winter kill. Even more uniquely, the Finger Lakes afford maritime advantages at high altitude.
To help connect these terroir dots with resulting flavors, Cornell ace viticulturist
Tim Martinson
tasted with our
Best-of-Appellation
™ panel as we labored to connect the What with the Why. The result was a killer list of great choices sorted into six styles in
New York's Riesling Paradise
. Here I've set down what I gleaned about the grape's underlying behavior.
The Many Faces of Eve
Wine's crowned princess tempts us with the apple and the pear, with citrus notes, with jasmine, lilac and honeysuckle floral scents, and sometimes with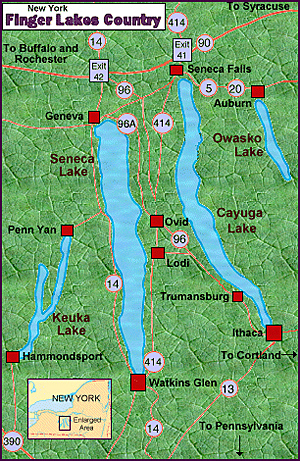 the peach.
Nature will mix these in differing proportions in different places. Add in honey, petrol, baking spice, and flower shop greenery, cucumber and dill, then throw in acidity and minerality, and you have the potential for vast diversity, eloquent of origin. At least that was the language our
Best-of-Appellation
™ panel came up with.
I was pleasantly surprised that the descriptive panel for
Andy Reynolds
, based at Ontario's Brock University, as well as U.C. Davis-trained sensory scientist
Uli Fischer
in the German Pfalz, had come up with pretty much this same
vocabulary
.
Any Master Sommelier worth her tastevin can tell the Rheingau's rich stone fruit from the Mosel's flowery bouquet. Thirty years ago, one
Dr. Rapp
showed that Riesling produces scents called
terpenes
; and his work continues in terpene-fingerprinting German Riesling by region. In warmer regions like the Rheingau, the jasmine-like linalool predominates, a simple and heady Muscat aroma prone to oxidizing into a machine oil scent called TDN. In the Mosel, linalool is suppressed in favor of geraniol, a more subtle, seductive lilac perfume less prone to oxidation. This may explain why these wines maintain their freshness for decades, while California Riesling abounds with petrol within a few years.
How does regional variability work? Riesling is a great place to look, because modern winemakers make it pure, without malolactic or oak influence. Fitting together the Riesling jigsaw puzzle gave me a chance to interview a wide range of experts and then whittle down their observations into the influences that account for the diversity the wines showed us.
But first I had to throw out a few popular simplifications. Sampling New York's wines in AVA groups, the connection of flavor to place becomes laughably apparent. But useful pat answers were hard to come by.
Too Cool For School
What better Christmas present could I get? Cornell's team headed by climatologist Alan Lakso
has just completed a full blown
interactive terroir map
of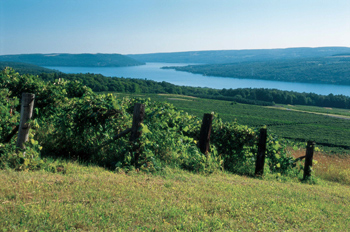 the entire State. Colored images layering soil conditions, terrain aspect, lake effects, growing season climate and length, and winter kill throughout the region. Wow. You have got to check this out.
Looking at the whole state for Growing Season Length and Degree-Days (warmth of climate) reveals a great deal. Eastern Long Island is just as cool as the Finger Lakes, but has a much longer growing season. Similar traits can be seen on the Niagara Escarpment AVA below Lake Ontario, an underappreciated area that Jim Trezise tags for the next vineyard gold rush.
By knowing exactly the climate and soil of each terroir, I figured we could now easily connect those dots with the flavors our panel was seeing. Or not. The effects of temperature and soil type turned out to be not so straightforward.
To be sure, Riesling prefers cool weather, and New York's average August temperature of 69oF is certainly a boon to its aromatics. But the Empire State's tremendous variability of expression exists within a narrow temperature range. So there is nothing much to talk about in New York concerning temperature as a source of flavor differences.
For a look at temperature effects on the grape, we must venture outside the Empire State's moderate climate. California's most serious Riesling junkie has got to be German-trained
Scott Harvey
, who has made Riesling from more diverse areas than perhaps any other winemaker in history. "In Napa, I need to pick in late August while the berries are still green and hard. If I wait, the flowery aromas I want will burn off. In Anderson Valley, which is a couple notches cooler, I don't get those flavors until six weeks later at the same Brix. In Michigan's Leelanau Peninsula, I absolutely have to wait until mid October."
In the opposite extreme,
Shelburne Vineyard
dishes up incredible Riesling whose ultra-cool climate retains oily, aromatic flavors despite its short season along the east side of Lake Champlain in northern Vermont. The take home message is that the higher latitude you can get, the better. What makes New York special is the fact that, like very few other places above the 45th parallel, you can grow Riesling here at all. The key importance of temperature moderation occurs in winter, where in these unique pockets, Riesling can simply survive.
But then there is the soil issue…
Amid much fanfare, Uli Fischer's protégé Andrea Bauer has succeeded in linking soil types to
flavor profiles. Trouble is, the effects vary by season. Sensory viticulturalist Jim Willwerth's parallel work linking soil composition to flavor on Niagara Peninsula Riesling shows the same pattern – soil makes a big difference, but different soils are favored in different years.

READER FEEDBACK: To post your comments on this story, click here
Print this article  |  Email this article  |  More about New York  |  More from Clark Smith