Sources of Petite Sirah's
Regional Diversity
In our Best-of-Appellation™ evaluation of Petite Sirahs from eighteen different AVA's, it was quite evident that the variety is capable of great regional variability. In retrospect, the reasons seem obvious. Aromatics, color and tannin. All abound in the grape, and the development of each appears strongly influenced by place.
by Clark Smith
November 10, 2008
---

n wine competitions
where the standard is to hand out five percent Gold Medals, judges commonly award 50 percent Gold to the Petite Sirahs. Why is it that this grape consistently passes muster? Petite Sirah seems regularly to surpass its supposedly more noble parent. Ever since I sat on a panel at the West Coast Wine Competition, which gave paltry scores to 70 Syrahs, and then immediately turned around and bestowed 8 Golds and 9 Double Golds on 42 Petite Sirahs, I have wondered just what made the difference. It occurred to me to pin it on scientific versus traditional winemaking - that Syrah was made by Davis grads and the less noble grape by the old farts.
The Nose Knows
But perhaps something more innate is at work. "Whatever else it may be doing, there's just something
delicious
about it," opines Robert Brittan (formerly winemaker at Stags' Leap Winery), who proposes an interesting theory: aromatic sulfur compounds.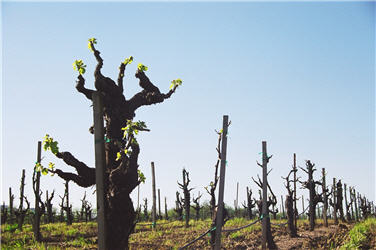 Although early interest in vegetal aromas centered on nitrogen compounds called pyrazines, which are responsible for the bell pepper aroma of Cabernet Sauvignon and the English pea aromas of Chenin Blanc, in Brittan's view, the sulfur compounds found in New Zealand SB are at least as important.
These compounds have split personalities. University of Bordeaux-based guru
Denis Dubourdieu
led Kiwi Sauvignon Blanc to world dominance by studying and perfecting the management of the oddball compound 4-mercapto-pentanone, which normally smells like grapefruit but in high doses can come off like kitty pee, and has become the region's signature aromatic. Could it be that this aromatic is part of the contribution of Durif's other parent?
Apparently so. DNA tests at Carole Meredith's UC Davis lab confirmed that David Coffaro Vineyards of Dry Creek has pure Peloursin in their Block 4, and David reports that it "makes a very floral spicy wine with a long finish." Like its aromatic fellow traveler Roussanne, Peloursin was first grown in the mountainous French Department of Isère in the Rhône-Alpes. It must have charmed somebody enough to bring it down the hill, but its tight, rot-prone clusters did not fare well in the Rhône lowlands, where it is now almost extinct.
Aromatics are the most obvious way in which regional typicity manifests.
In my view, this is what Petite Sirah has in spades but which its more vaunted father Syrah lacks as a primary attribute. One can always find fruit in a Syrah at close inspection, but Petites fairly ooze with blueberries, cherries, blackberries or even oranges.
Who knows the sources of aromatic diversity? One aspect seems obvious: the transfer of aromatic substances from native vegetation to the wax cuticle which surrounds every berry. It isn't surprising to pick up sagebrush aromas on
Howell Mountain
or menthol proximate to the profuse eucalyptus windbreaks in
Monterey
.
The wildflowers and garrigue of Provence are evident in the air to anyone who has hiked in the South of France, and unsurprisingly they also show up in the wines of the region. Duh! It stands to reason that wines grown in our own more drought prone areas offer thyme, rosemary and bay, while wetter climes are laced with juniper and pine nuances, particularly in areas like the
Santa Cruz Mountains
where tiny vineyards are surrounded by local forestation. In grape monocultures, this factor plays less of a role. Gotcha!
Less clear are the sources of variation in fruit aromatics. Why do we consistently find maraschino cherries in, not just the Zinfandels, but the Cabernets and, yes, the Petite Sirahs of
Mendocino
? What gives high altitude Petite from so many regions the bright red pomegranate/cranberry fruit which is replaced in lower sites by cassis and blackberry? Beats me.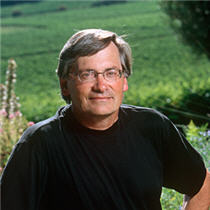 When Robert Brittan headed up winemaking at
Stags' Leap Wine Cellars
, he was often pointed to as a pre-eminent Petite Sirah expert. A vineyard-savvy winemaker, he has made wines from a broad spectrum of sources in the
Napa Valley
, as well as Mendocino hillside and Valley,
Lodi
,
Green Valley
, and
Lake County
. He is now owner/winemaker at
Brittan Vineyards
in Willamette Valley, Oregon.)
According to Brittan,
fruit expression has to do with not just regional high temperatures (the UC Davis Degree-Day system), but with the way it gets hot.
"The characteristically austere, black fruit one finds throughout Napa comes from big diurnal temperature swings - even in Calistoga. In Oregon, I have a Van Duzer-contiguous site with southern and western exposures, but it has huge diurnal shifts, which drives phenolic buildup in grapes, particularly Petite Sirah, and if it stays hot at night, you get very different fruit flavor development. Valley floor Mendocino gets maraschino, light color and tannin, as does Lodi. Not so for Mendocino hillsides."
Color Me Happy
Color is the key to wine structure. In the philosophy of my guru
Patrick Ducournau
, the importance of the variety's propensity to produce lavish
anthocyanin
content cannot be overstated. Based from work on many thousands of wines, Ducournau's theories, still awaiting confirmation from a recalcitrant academic sphere, have proven extremely useful and powerfully predictive to me in a decade of consulting work, and seem valuable to share here to shed some light on how Petite Sirah behaves. Ducournau, the father of
micro-oxygenation
and a whole postmodern school of winemaking, tamed the manly monster grape Tannat in his native Madiran by understanding that wine quality is linked to its
structure
.
In Ducournau's system, monomeric anthocyanins are held in high esteem. These unique
flavonoid phenolics
are favored targets for polymerization-happy

READER FEEDBACK: To post your comments on this story, click here
Print this article  |  Email this article  |  More about America  |  More from Clark Smith