Climbing the Peaks:
Santa Cruz Mountain Pinot Noirs
Welcome to the Geography of Flavor.
by Clark Smith
November 14, 2008
---
On October 22nd, 2008, the
Best-of-Appellation
™ panel attacked the most complete collection of
Santa Cruz Mountains
Pinots ever assembled. We knew we were in for a treat. And our expectations were met.
---

he Santa Cruz Mountains are the source
of some of the most intense and distinctive wines on the planet; and
Pinot Noir
is their king. And unlike other regions, it's almost all single vineyard wines. Since multi-vineyard blends are in a decided minority, we were treated to a wonderful opportunity to look for patterns. Thanks to the tireless efforts of Mary Lindsay, President of the Viticulture Association of the Santa Cruz Mountains and ace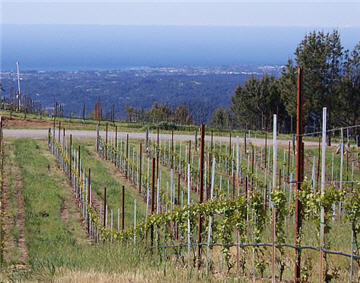 viticulturalist Prudy Foxx in mapping out these tiny patches on Google Maps, and the generous cooperation of local wineries in completing our extensive, nosey Product Information Forms, we got a chance to enquire here in great depth into the geography of flavor. I had also crammed for the exam, getting to know many of the personalities of the region through the fine writing of Regional Correspondent Laura Ness.