Climbing the Peaks:
Santa Cruz Mountain Pinot Noirs
Welcome to the Geography of Flavor.
by Clark Smith
November 14, 2008
---
On October 22nd, 2008, the
Best-of-Appellation
™ panel attacked the most complete collection of
Santa Cruz Mountains
Pinots ever assembled. We knew we were in for a treat. And our expectations were met.
---

he Santa Cruz Mountains are the source
of some of the most intense and distinctive wines on the planet; and
Pinot Noir
is their king. And unlike other regions, it's almost all single vineyard wines. Since multi-vineyard blends are in a decided minority, we were treated to a wonderful opportunity to look for patterns. Thanks to the tireless efforts of Mary Lindsay, President of the Viticulture Association of the Santa Cruz Mountains and ace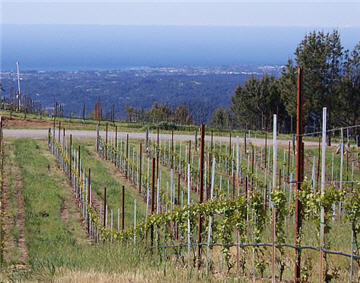 viticulturalist Prudy Foxx in mapping out these tiny patches on Google Maps, and the generous cooperation of local wineries in completing our extensive, nosey Product Information Forms, we got a chance to enquire here in great depth into the geography of flavor. I had also crammed for the exam, getting to know many of the personalities of the region through the fine writing of Regional Correspondent Laura Ness.
I've already chronicled the unusual topology, climatology and history of the region in my recent article on the
Chardonnays of the region
. The characteristics that one finds in the bottle are a product of three influences. First, the native terroir, which derives from climate and soil. Secondly, the viticultural choices applied to the site, principal among which is clonal choice. Third, the methodology each winemaker employs to fashion a product intended for a specific type of consumer.
These influences combine to form each wine's style profile. We determined four profiles, each practised throughout the AVA:
"Solid" - Clean, balanced wines with structural integrity and ageability. This style may be somewhat closed and hard in youth, and can require sophisticated skill to appreciate their subtleties in youth.
"Ethereal" – Seductive wines of great aromatic mystery, usually expressing complex perfume rather than fruit. These may be very light-colored wines, dense in aromatics rather than necessarily possessing much structure.
"Impact" – Here size matters. These wines impress more than seduce, with forward fruit, weighty on the palate and often with substantial alcohol, all intended to blow you away.
"Distinctive" – These are wines of place, grouped by no common thread other than their goal of expressing distinctive terroir features rather than pleasing the palate in any other way. They are "art for art's sake" and, as such, they may possess unexpected characteristics and imbalances.
It will be clear to you from perusing our assignments of these designations that a single winery will offer different style profiles in different years. Nature apparently trumps nurture in this region, and unlike most of California, vintage variation is a simple fact of agrarian life.
Send in the Clones
Since almost every vineyard is a mix of clones, it was not possible to gain a primary understanding of clonal differences from the tasting by itself. Likewise, I realized right away that my own experience with clones in the
North Coast
and the
Santa Rita Hills
didn't translate very well to the way they express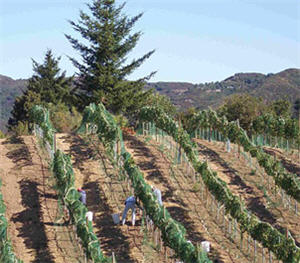 themselves in this unusual terrain. Prudy Foxx drew a key distinction between the newly available Dijon clones 114, 115, 667 and 777, which possess clean, rich fruit, perfume and solid structure but lack the earthy truffle funk and exotic sandalwood of older selections. Laura Ness shared her notes on clones of the region, generalizing from her years of experience:
Clone 114
: Cranberry aromas, clove, citrus, good structure, nice backbone, coffee brandy finish (very nice!).
Clone 115
: Lively cranberry, orange oil, furniture polish, cran-raisin, cloves; bright raspberry, light body, guava, strawberries, lots of electricity.
Clone 667
: dark, brooding, intense, earthy blackberries, licorice, quite tannic, a hint of orange peel. Good structure and lush texture, raspberry, blackberry and cedar - like Big Foot.
Clone 777
: Bright, spicy, guava, persimmon, hints of citrus, spritely raspberry, cherries, bright acid, raspberry, sarsaparilla and coffee.
Clone 05
: (Pommard) Complex, good tannin, earthy, rich texture, intense, very knitted together: the most Burgundian of all. Big, smoky, dense, root beer, cloves, pomegranate, hazelnut and herbs.
Martini Clone (Clone 18)
: Big, fat meaty and fruity aromas, quite appealing with some perfume; hints of nutmeg along with lush strawberry jam, nice texture and great acidity.
Mt Eden Clone (Clone 37)
: light body, ethereal, musky, dusty earth, dried cherries, vibrant acidity, sandalwood and sage.
A Macro View of Micro-Terroirs
Although every site in this mountainous region is unique, there are clear trends which impart neighborhood personalities. We sorted our tasting into six general climatic zones within the region, moving more or less from No

READER FEEDBACK: To post your comments on this story, click here
Print this article  |  Email this article  |  More about Santa Cruz Mountains  |  More from Clark Smith