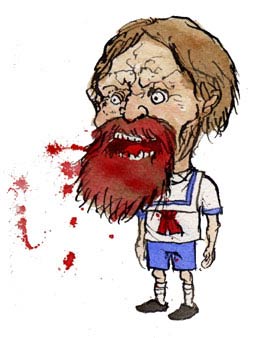 Agria


Your fierce color might be reminiscent
of foregone Hungarian warriors, but you
have yet to convince the world that your
partnership with the sour and passive
Mr. Kekfrankos will ever strike fear into
the hearts of men.



Appellations Growing Agria Grapes
Appellations producing the most Agria wines:
Agria (aka. Turan)

Agria has also found its way into North America via British Columbia, where it is sometimes blended with Pinot Noir. Originally from Hungary, Agria is known there alernatively known their as Turan. Agria's chief attribute is its dark color, presumably a genetic benefit of having a Tenturier variety in its lineage. Agria can also claim the equally dark-pigmented Malbec and Kadarka in its bloodline. In present day Hungary, Agria is often blended with Kekfrankos, to make modern versions of Egri Bikaver, the historic wine once known as 'Bull's Blood'. The tale of 'Bull's Blood' is among the most interesting in wine lore. It's said that in 1552, the heavily outnumbered defenders of the fortress of Eger drank the local wine prior to battle. The wine, believed to give extraordinary power, dripped down their faces and into their beards. The Turks, upon seeing their enemies, with what appeared to be 'Bull's Blood' coming from their mouths, retreated in fear. The original Egri Bikaver was traditionally made with Agria's more tannic and fiery ancestor Kadarka. Unfortunately, Agria despite having plenty of blood, falls short on the bull, and its rich color can do little to improve on the lacklustre quality of today's over-produced and heavily-exported Egri Bikaver. The future of Agria on both sides of the Atlantic seems limited to a supporting player for other grapes such as Pinot Noir.