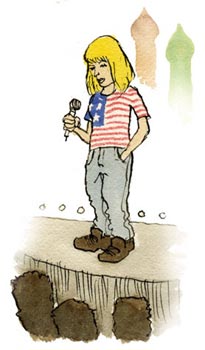 Isabella

You are a superstar in the countries
formerly known as the 'Iron Curtain'.
In these lands, where being American
is an instant vehicle to popularity,
your obvious native 'American' character
is applauded, or at least accepted.
Truth be told, they are pleased that
anyone sticks it out through their
bitterly cold winters.

Appellations Growing Isabella Grapes
Appellations producing the most Isabella wines:
Isabella

Reportedly named after a famous southern belle, Isabella was allegedly discovered in North Carolina. This grape is believed to be a hybrid of a Vitis labrusca grape and an unknown Vitis vinifera.

In New York State, small acreages of Isabella can still be found. Here, it is used in the production of some varietal and sparkling wine and as a table grape. Cold resistant, Isabella's greatest success may be in the former Soviet Union. Here, it is used for both juice production and wine making.

In Eastern Europe, Isabella is called many names, such as Seksarda in Croatia, and Izabella in Hungary and Georgia. As Fragola, it is cultivated in the cooler areas of Italy and Australia. In New Zealand, the Kiwi version is called Albany Surprise. Large acreages of this grape are grown in Brazil, where it is easily the leading vine. It is found in other areas of South America, as well as in Portugal, and Japan. Altogether, the vine has more than 50 aliases and can be found in a number of far flung regions. Although modern winemaking can mitigate much of its 'foxy' aroma and flavour, Isabella by any name is doomed for a decrease in production.