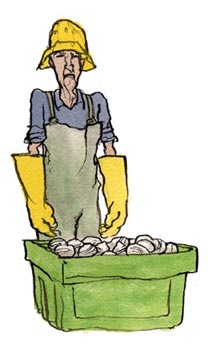 Melon

You are the old man of the sea...
a salty and bitter crustacean.
Seemingly angry at the world, your
personality can be rather sour and
mean. But somehow you put all these
characteristics together into an
inexplicably palatable companionship
for washing down all the fruits of
the sea.

Appellations Growing Melon Grapes
Appellations producing the most Melon wines:
Melon (Melon de Bourgogne, Muscadet, Weisserburgunder)

In the 1970s and 1980s, in a period when varietal accuracy on wine labels was often a secondary thought much of what was thought to be Pinot Blanc in California were actually plantings of Melon. Today, this grape is a minor variety in the Golden State, with small plantings in the cooler areas of the North and Central Coast regions. In such cool, coastal conditions, Melon can make balanced table wines with good flavor. Not surprising, since this old Burgundian variety,once widely grown in that area,is most associated with an even cooler coastal region. In France, Melon is mainly used to make white wines known as Muscadet from the Loire Valley's extreme western edge, known as the Nantes, which borders the Atlantic ocean. Here it makes light acidic white wines, with tart acidity, citric fruit character that often possess a salty character. The best of these come from the Muscadet de Sevre et Maine AOC, where many of the wines are aged sur lie to take on extra weight and complexity. Muscadet wines, and generally white wines made from the Melon grape are excellent food wines, pairing especially well with crustaceans and other salty seafood. Melon's clusters and berries are small to medium-sized, yellow-colored with a white bloom, and have skins with high tannin. Melon's early budbreak, which makes it sensitive to frost, has limited its use in North America's Northern cool climate viticultural regions. A susceptibility to bunch rot has also limited its use in humid or wet regions.

Horse Heaven Hills
Cab May Be King, But at Zefina the Rhones Rule
By
Anne Sampson