Amista Vineyards: winery information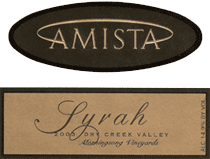 Winemaker: Michael Farrow
The art and craft of winemaking is a second career, and first love, for Mike Farrow. He planted his first vineyard and began his winemaking education at 51. He made his first commercial wine – under his own brand, Amista Vineyards – in 2003, at the age of 60. And in time for the 2007 harvest, self-taught, entrepreneurial Mike Farrow got his own winery – when he turned 64. Like wine, life improves with age.

Now, with eight vintages under his belt, Farrow is determined to make bold wines from the Dry Creek Valley with as little manipulation as possible. He attempts to pick earlier, rather than later to minimize over-ripeness and to gain better balance. "I'm not picking for sugar," he says emphatically, "I'm picking for flavor."
Annual Production: 1,900 cases
Estate Vineyard Acreage
12 acres of Chardonnay; 8 acres of Syrah.
Grape Varieties Planted