Arns Winery and Vineyards: winery information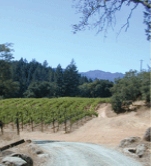 Winemaker: Sandi Belcher: Winemaker and Owner
The inception of ARNS came about in the mid 1980's. Sandi Belcher and John Arns always talked about developing a winery on their property but were very busy with vineyard development, selling their grapes and consulting for clients. When the concept came to paper, it was decided to make a small winery and maintain a focus on their Estate Grown fruit. This winery would be fully equipped with state-of-the-art equipment to produce only the best wines. It took a lot of work to release the first Arns in 1992. We have grown a great deal. Improving our vineyards and wine quality has been the number one priority. We spend all of our time in the vineyards during the growing season. ARNS averages 600 cases per year of their Estate Grown Cabernet Sauvignon, 300 cases of the Arns Napa Valley Cabernet Sauvignon and 100 cases of the Arns Syrah.
Annual Production: 1,000 cases
Estate Vineyard Acreage
10 planted acres on various clones and rootstocks of Cabernet Sauvignon.
Grape Varieties Planted