Bouchaine Vineyards: winery information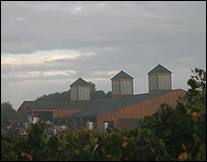 Winemaker: Michael Richmond
Mike joined Bouchaine in 2002 with over thirty years of wine industry experience, as well as a passion about winemaking that is unparalleled. As founder of Acacia Winery in 1979, Mike was a pioneer in developing premium Pinot Noir and Chardonnay wines from the Carneros appellation. He is credited with helping to bring prominence to wines grown in the Carneros wine region putting the region on the international wine map for evermore.
Estate Vineyard Acreage
Our Estate Vineyards total 85 sustainably farmed acres of the entire 104 acres of the winery estate. A signature of our estate vineyards are the unique twin hills jutting up from the otherwise gently rolling hills of the Carneros. Portrayed on our wine label, the "Garretto Hills" are named for the estate's original founder Johnny Garretto.

From atop the hills one can see the San Pablo and San Francisco bays. The marine influence from the bay region is tantamount in establishing the distinctive character of the entire Carneros region.

The Garetto hills also lord over additional estate vines that undulate in small rises and valleys around the winery. Clay loam and cobbled soils, and rows of beneficial grasses set the stage for the Pinot Noir, Chardonnay, Pinot Gris and Pinot Meunier planted there.
Grape Varieties Planted