Casey Flat Ranch: winery information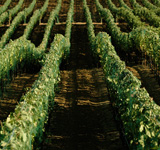 Winemaker: Laura Barrett
Laura Barrett represents a new breed of exciting and gifted young female winemakers. After receiving her BS in Chemistry from the University of Vermont, Laura began her career working in a boutique New Zealand winery. Later returning to the United States to attend UC Davis, Laura received her Masters in Enology, was awarded the La Reve Foundation scholarship and traveled to the Margaret River wine region of Western Australia on the International Wine and Food Society Global Internship Award. Prior to joining the Casey Flat Ranch team in 2008 Laura worked at Napa Wine Company and as Associate Winemaker at Fisher Vineyards in Sonoma.
Annual Production: 5,000 cases
Estate Vineyard Acreage
Selected for the moderately rocky soil composition, gentle hillside mountain slope, and 2000-foot altitude, the site provided for excellent growing conditions. The vineyards are sustainably cultivated, using materials and farming techniques that emphasize water and soil conservation. Weather data records indicate climate conditions at the Vineyard to be parallel in almost every respect to the Oakville / Rutherford appellations of the Napa Valley. Remarkably, average daily daytime temperatures are cooler than St. Helena, located 22 miles to the west. Originally part of the Berryessa Spanish land grant, area settlement began in the 1850's with the California Gold Rush. Valley locals of the time named the property Casey Flat for legendary frontiersman and early homesteader John Casey. Today the expansive 6000-acre Ranch is home to the Casey Flat Ranch Vineyards, supports a modest Longhorn Cattle operation, and reflects the values of the Robert and Maura Morey family - owners for over a quarter century. Casey Flat Ranch exemplifies stewardship of our environment, preservation of our natural resources, and is representative of a new and more contemporary Western sensibility towards the land and its use.
Grape Varieties Planted