Closson Chase Vineyards: winery information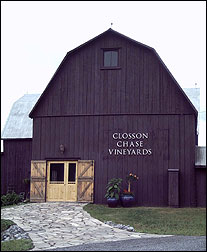 Winemaker: Deborah Paskus
Viticulturist Deborah Paskus grew up in Hamilton, Ontario — just a stone's throw from Canada's largest grape growing region on the Niagara Peninsula. In Deborah's case, proximity to the vines meant affinity for the vines — a passion that led her to become one of Canada's most celebrated winemakers.

Deborah was quick to develop ideas of her own, refusing to be limited by accepted boundaries. After majoring in horticulture at the University of Guelph, she was determined to make her own contribution to winemaking tradition. Her greatest challenge came when she set out to prove to Steve Temkin, noted Toronto wine columnist and creator of the wine list for Toronto's world-class Scaramouche restaurant, that it was indeed possible to produce an intense, layered Chardonnay in Ontario.

The result was the Temkin Pasus Chardonnay: born in 1991 from a 10-year old site on the Beamsville Bench in Niagara in the cooperative winery Thirteenth Street. It was this wine that earned her the description 'iconoclast' from Gord Stimmel, the Toronto Star's wine critic.
Annual Production: 560 cases
Estate Vineyard Acreage
30 acres planted with 30 currently producing.
Grape Varieties Planted