Costa de Oro Winery: winery information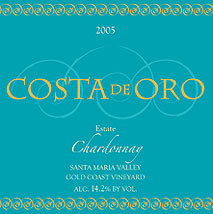 Winemaker: Gary Burk
Gary has produced the Costa de Oro wines since 1994, when he left the music business to pursue winemaking. He worked the '94 harvest at Au Bon Climat and Qupé wineries and was offered a full time position in '95. After 8 harvests there, he left to focus completely on the Costa de Oro label. Gary's wines have been named in "Top 100 Wines of the Year" by Wine & Spirits Magazine, the San Francisco Chronicle, and Wine Country Living. Recent awards include "Best in Show" at the Orange County and Santa Barbara County Fairs Wine Competitions.
Annual Production: 6,000 cases
Estate Vineyard Acreage
30 total acres planted in 1989 & 1990. 20 planted to Pinot Noir (clones 115, 777, and Martini) and 10 planted to Chardonnay (clones 4 and Wente).
Grape Varieties Planted